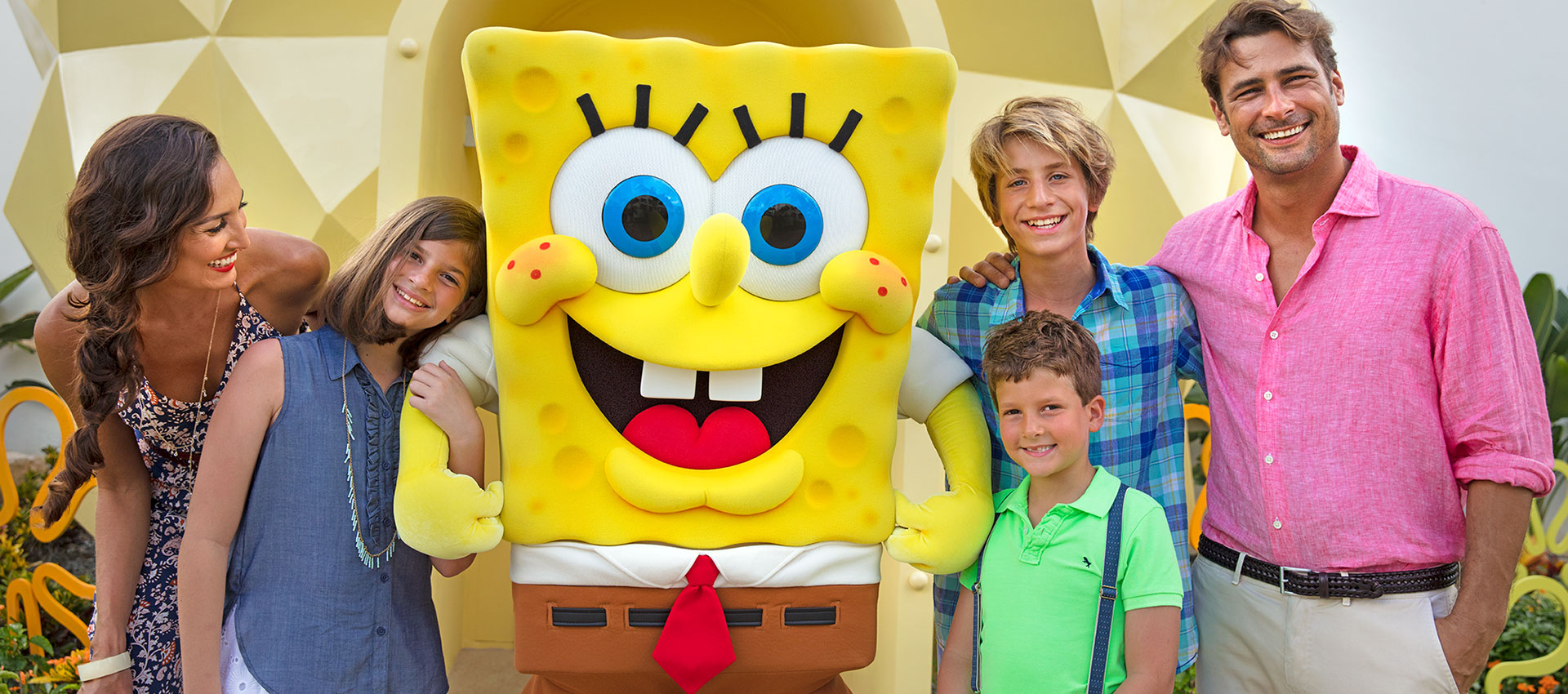 Whether you are planning a spring break getaway, summer escape or weekend trip, Nickelodeon Hotels and Resorts Punta Cana is one of the best luxury resorts in the world for family vacations. The #1 entertainment brand in the world delivers so much more than fun times with the kids. You will also find luxury accommodations, gourmet cuisine, premium beverages and gracious hospitality, all tied up in a package of blue skies and Caribbean sands.
Enjoy All-Inclusive Resort Entertainment, Playtime, Dining and Drinks, Too.
With a pristine Caribbean beach, sparkling pools and all-inclusive food, drink and more, you never have to leave the resort to enjoy the family vacation of your dreams.
Nickelodeon Place is the resort's hub for Nickelodeon-themed fun and entertainment, including Character Central, Just Kiddin' kids club, Nick kNacks, the Plaza Orange stage, and Aqua Bite restaurant.
When you visit Character Central, keep your camera handy because SpongeBob SquarePants, Dora the Explorer, the PAW Patrol and the Teenage Mutant Ninja Turtles love to pop in and make new friends. Plaza Orange is the evening hotspot, including nightly character performances and the Orange Carpet Meet and Greet.
An Exciting Tropical Water Park Is Included, Too
When your family vacations are at Nickelodeon Resorts, you'll be making memories with a splash. The kids will have a blast with Aqua Nick's water slides, water cannons and fountains. Adults can get in on the fun on the lazy river. Just grab a green or orange inner tube and get your float on.
Plus, clever, playful Nickelodeon touches throughout ensure that your family's experience goes way beyond the expected.
Check "Get Slimed" Off of Your Family's Bucket List
Aqua Nick is Slime Central at Nickelodeon Resorts. Every day at 3:00 pm, kids and adults are invited to gather at the Aqua Nick playground to join the Super Sliming. After a choreographed introduction, the countdown starts. And then it's three, two, one...Slime! The drench bucket dumps gallons of Slime on everyone within splashing distance.
The resort also offers Personal Slimings for an added charge. Up to four people can sit down and enjoy the ultimate honor. The Nick Team will be on hand to capture the moment for you on camera so you can share and remember this family vacation highlight.
Snack or Feast on All-Inclusive Luxury Resort Indulgence
From quick bites by the pool to mind-blowing concept dining, Nickelodeon Resorts Punta Cana features ten all-inclusive restaurants and three bars to choose from. Room service is also included, as well as your guest room's well-stocked mini bar, filled with chips, waters, sodas and beers.
This is not your usual family resorts fare. Accomplished chefs and accommodating wait staff elevate every meal to gourmet status, whether it's crepes at Sugarcane or Pasta alla Norma at Verdello. Eat your way around the world from Wok Wok, serving Far East fusion, to Zest, serving Mediterranean cuisine. It's easy to dine at the intersection of nutritious and scrumptious, with healthy and vegetarian options available, and the kitchen is happy to accommodate food sensitivities and allergies. Just let your server know before you order.
With available evening babysitting, you can also plan a romantic date night at Kitchen 23 by Le Chique, which is always for adults only, or Vino Vino wine bar, which is adults-only after 10:00 pm.
Best Family Resort Designed for Nickelodeon Superfans
From the Aqua Nick water park to the stylish accommodations, you'll discover fun and unexpected Nickelodeon touches all over the place. In addition to the signature dashes of Nickelodeon orange, each guest room has a blimp-shaped footstool to add that special Nick flair to the décor. The Pineapple Villa amps up the immersive experience, with a foyer that recreates the interior of SpongeBob's pineapple home at 124 Conch Street.
Around the resort you'll find statues of SpongeBob SquarePants and his buddy Patrick. Pose for pics with the SpongeBob mural outside Nick kNacks gift shop. Keep your eyes open for Teenage Mutant Ninja Turtle-inspired green sewer covers. And after you get Slimed at the water park, rinse off at the Double Dare-inspired nose shower.
Best Luxury Resort in the World: Family Memories You Can Hold Onto
Your family won't want to forget a single moment of their vacation, so be sure to return home with something that captures all the amazing fun you had together.
Capture the ultimate family photos from a Personal Sliming at Aqua Nick. Or make a reservation at the Character Breakfast at Zest restaurant. Start the day with eggs, bacon and pancakes as well as fun times with SpongeBob SquarePants, Dora the Explorer or the PAW Patrol. Feel free to come in your pajamas—just like SpongeBob and friends. At the TMNT Turtle Power Breakfast you can pick up some cool ninja moves from Donatello, Leonardo, Michelangelo and Raphael. (A surcharge applies.)
Located within Nickelodeon Place, Nick kNacks is a gift shop like no other, filled with the ultimate collection of Nickelodeon toys, apparel, souvenirs and other unforgettable finds from the greatest current and past Nickelodeon shows and characters. And, of course, you can expect to find a large assortment of SpongeBob SquarePants merch to commemorate your stay.
Best Resort to Stay for Families of Every Size
Whether you have a small family or are bringing lots of relatives, Nickelodeon Resort Punta Cana has a wide array of accommodations to give everyone their space. The perfect luxury accommodations for every family—no matter the size—await on the beaches of Punta Cana in the Dominican Republic, and, coming in 2021, Riviera Maya, Mexico.
If you're a family of four, the Flat Suite, Flat Swim-Up Suite, Swank Plunge Pool Suite or Swank Wrap-Around Swim-Up Suite is perfect for you. If you have up to five people in your group, choose the Pad Suite or Pad Swim-Up Suite. And larger families have the choice of the outstanding Pool Super Villa or the eye-popping Pineapple Villa.
As the names suggest, the Swim-Up Suites place access to the swimming pool right outside your door, so you never have to go far for a morning splash or pool time while the kids nap. And accommodations feature assorted modern essentials, including Jacuzzis, private patios, and wrap-around terraces or balconies.
Big Families Love the Pineapple Villa
Live like a Bikini Bottom celebrity at the Pineapple Villa. Accommodating up to six people—two adults and four kids—this astounding 1,500-square-foot villa is the resort's most iconic accommodation. On the outside, it's Insta-perfection: a two-story, yellow pineapple surrounded by tall and stately palms. Enter through a foyer designed to look like SpongeBob SquarePants' underwater home, complete with easy chair, antenna TV and his pet snail, Gary.
After that, it's all luxury. The private master suite comes complete with a King-size bed, lavish indoor marble bathroom and an inviting Aguas del Amor outdoor shower and freestanding tub. On the upper level, the second bedroom has two single beds and a private bath. The downstairs living area sleeps two as well, on the comfy pull-out sofa bed.
A wall of retractable doors leads from the living room to a lush garden and a private patio complete with infinity pool and outdoor shower. As guests of the Pineapple Villa, you'll enjoy the services of your own Private Butler, there to take care of every whim. Using a pre-arrival questionnaire, your butler will intuit your family's needs, and also schedule your activities, make dinner reservations and more. Would the kids love an afternoon tea party or a pajama pizza party? The Private Butler will arrange it.
Family Friendly Resort: All Accommodations Have a Bathtub
Yes, one day your toddlers will reach an age when you can leave them alone in a shower. But until then, you need a bathtub in your life. Fortunately, the sleek and spacious bathrooms of every Pad, Suite and Villa at Nickelodeon Hotels and Resorts include an elegant tub (and a non-tile, non-slippery floor!) perfect for a splashy, toy-enhanced soak after a day at the beach, the pool or Aqua Nick.
Ease the Kids into International Travel
We get it: not every family is the backpack-around-the-world type. When it comes to international travel, your kids may be more comfortable with baby steps, and that's cool. Enjoy a taste of the Caribbean at Nickelodeon Hotels and Resorts, located in Punta Cana, Dominican Republic, and coming in 2021, Riviera Maya, Mexico. Thanks to the resorts' partnerships with tour operators, it's easy to explore local culture outside the resort and return to your high-end resort digs at the end of your adventure.
Discover the all-ages vacation that combines the perfect balance of luxury and Slime, at Nickelodeon Hotels and Resorts. Choose your Caribbean destination and book now.