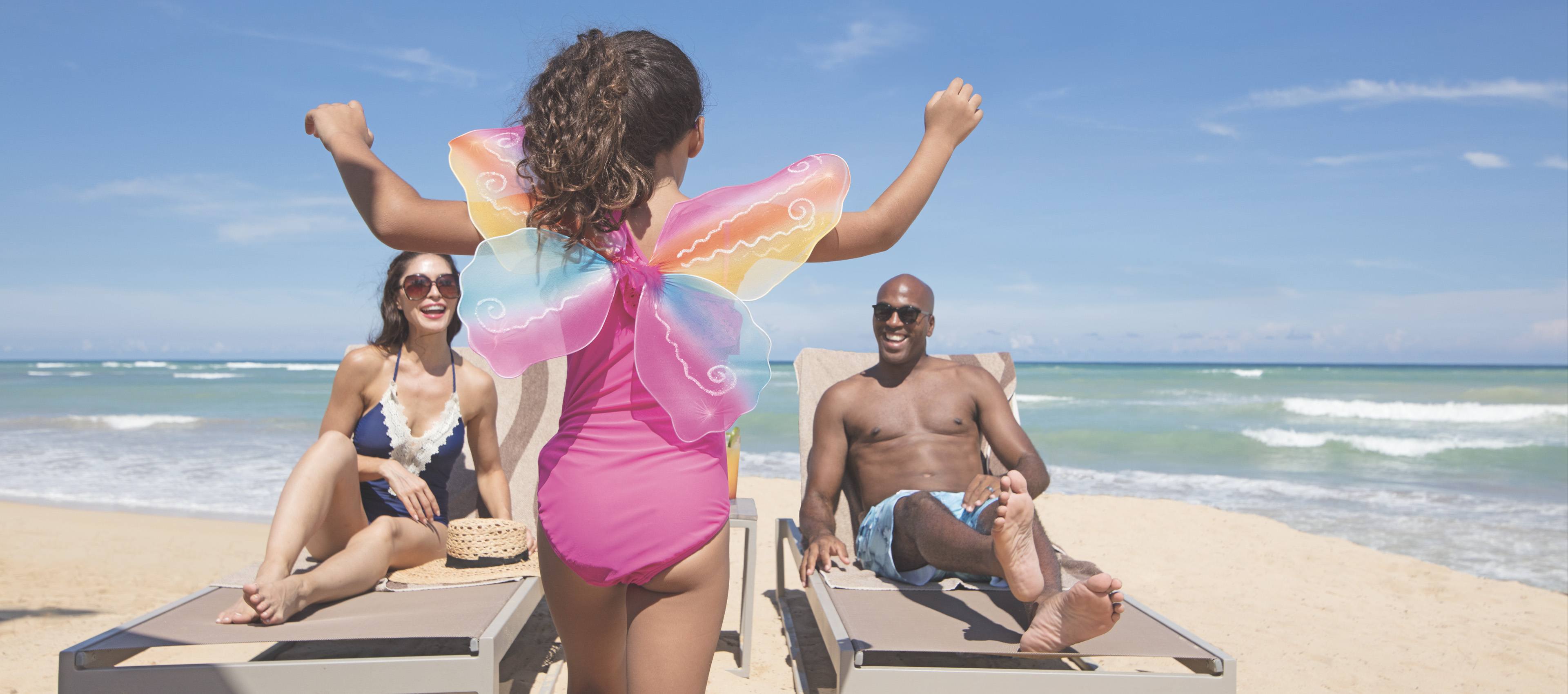 As parents, we always love when we get to introduce our kids to wonderful new places, new foods and new experiences. The smiles on their faces are unforgettable. International travel is one of those memories your family will share forever, but there can be a lot to think about and plan for. You probably know about passports and airport safety, but there are other things to consider when you're far away from home.
Travel gurus have plenty of tips for easing the family into international travel, but with all-inclusive beachfront luxury and fun for all ages, Nickelodeon Hotels & Resorts have already thought of everything to make sure everyone feels at home and gets the vacation of their dreams.
1. They Say:
Pack Light
We've Got You:
Enjoy the Convenience of All-Inclusive Toddler Amenities
For someone so little, babies and kids sure have a lot of belongings. It may seem like traveling light is impossible when there are strollers and pack 'n plays to consider. Luckily, at Nickelodeon Hotels & Resorts, we've got you covered with essential Toddler Amenities that are provided as a courtesy with your all-inclusive stay.
Of course, your little one's favorite stuffed toy or blanket is one of a kind, but when it comes to the other gear, let us do the heavy lifting. Just ask the concierge for the baby and toddler gear that you need. We'll provide strollers, cribs, kids' spa robes and baby bottle warmers at your suite. While the resort doesn't provide baby formula, we do provide milk and jars of baby food, as well as chef-made baby food for your young connoisseur.
2. They Say:
Choose a Resort with a Playground
We've Got You:
Aqua Nick and Nickelodeon Place Have So Many Ways to Play
Traveling the world can be a lot for a kid. All these hotels and old cities may not seem very kid-friendly. But Nickelodeon Hotels & Resorts are more than places to stay. They're places to play!
Kids look forward to every day at Aqua Nick, a Nickelodeon-themed water park with water slides, water cannons, fountains and a huge drench bucket. Or kids and adults can board an inner tube for a float down the lazy river.
Aqua Nick is also where the Slime happens. There is a daily Mass Sliming, where everyone gets soaked with gallons of the green stuff. Families can also request a Personal Sliming and have the moment captured on camera.
Nickelodeon Place features an array of entertainment for kids and adults, including the Plaza Orange stage, Aqua Bites restaurant and Nick kNacks gift shop. At Character Central, you might see SpongeBob, Dora the Explorer, the PAW Patrol or other characters strolling by and posing for photos with guests. And Just Kiddin' is an extra-special kids' club where you can drop off the small fry for kids-only activities, games and guided play with trained staff.
3. They Say:
Get Jet Lag Under Control
We've Got You:
Fun in the Sun Is the Best Remedy
When you travel across multiple time zones, you're going to get jet lag, which is defined as a temporary disruption in your circadian rhythm. Jet lag throws off everyone's sleep schedules and usually makes kids cranky, because the body is confused and doesn't know when to stay awake and when to go to sleep.
Travel + Leisure recommends several ways to try to minimize the disruption and start feeling normal sooner. Avoid caffeine and alcoholic beverages. You'll also want to stay hydrated. And before the flight leaves the airport for Nickelodeon Hotels & Resorts Punta Cana, set your watch to the local time.
When you arrive, the welcome Slime Smoothie will help you get re-hydrated, as well as the premium beverages included in your stay, such as bottled water, soft drinks, virgin daiquiris, imported beers and more.
Don't take a nap as soon as you arrive — no matter how tempting your bed's high-thread-count sheets and lavender-infused pillows are. Stay awake until your usual bedtime.
In fact, go outside into the Punta Cana sunshine. From Aqua Nick to the Caribbean beach to the all-inclusive lunch at Fresco poolside bar and grill, there's plenty to do until the sun goes down.

4. They Say:
Let Them Keep Their Nap Schedules
We've Got You:
Swim-Up Suites Let You Have a Good Time While They Catch Some Zzzzs
Everyone knows, babies and toddlers need their naptime. If they get over-stimulated or over-tired because they've missed their nap, it can throw off the entire day, with crankiness or — worse! — an unplanned crash that leaves a toddler wide awake in the wee hours of the night.
With the self-contained fun and activities of Nickelodeon Hotels & Resorts Punta Cana, you don't have to ever be too far from a comfy bed and pillow when it's close to their mid-morning or early-afternoon naptime.
And while the kids are snoozing, the adults can still enjoy their stay in paradise. In addition to stylish comfort and colorful décor, several of our accommodations provide pool access right outside your door, as well as beach views.
The Pad Swim-Up Suite sleeps up to five guests and features a terrace, as well as direct access to the pool. The Flat Swim-Up Suite also sleeps up to five guests, but has a private master bedroom and living room as well. The furnished terrace provides direct pool access. The Swank Plunge Pool Suite is jazzed up with a master bedroom and massive wrap-around private terrace complete with a private pool. In The Swank Wrap-Around Swim-Up Suite, the pool outside your terrace is connected to the resort pool for private splashing with a VIP feel.
The resort's largest accommodations take luxury and privacy above and beyond. When you're enjoying downtime in the 1,300-square-foot Pool Super Villa, it's like being at home — only with butler service and an infinity pool.
The Pineapple Villa is our most spectacular place to stay. Inspired by the Bikini Bottom home of SpongeBob SquarePants, it offers private gardens, butler service, an infinity pool, and more than 2,000 square feet of stylish indoor space that sleeps six.
5. They Say:
Remember Healthy Eating Habits
We've Got You:
12 Gourmet Inclusive® Dining Destinations
Traveling takes us away from our family routines, and that's part of the fun. Less cooking, more relaxing. Less cleaning, more playing. Nickelodeon Hotels & Resorts aren't just all-inclusive resorts. They feature the Karisma Gourmet Inclusive® Experience — an elevated level of all-inclusive that serves up premium food and beverages made with fresh, quality ingredients. That includes ripe fruits, fresh vegetables and low-calorie items, so you can make sure the kids are eating right. Restaurants will also accommodate gluten, nut and other allergies if you alert your server when you order.
The breakfast buffet at Sugarcane is a healthy start to the day, serving fresh fruits like guava, berries and mango; custom omelets; as well as hearty breakfast favorites like crepes, bacon and pancakes, so everyone can fuel up for the day.
At the poolside Fresco restaurant, fresh and delicious bites are served up speedily. The Daily Ceviche is a favorite, as is the Chimichurri Burger. Take your pick of restaurants with healthy and tasty options, from grilled vegetables and salads to sushi and seafood.
6. They Say:
Reserve Some "Me Time"
We've Got You:
Visit the Full-Service Spa
"Me Time" often feels like a luxury, especially on a family vacation, but at Nickelodeon Hotels & Resorts you'll find plenty of pampering within the 14,000-square-foot Vassa Spa. While you're immersed in this Indonesian-inspired oasis, your kids will be enjoying supervised fun at the complimentary Just Kiddin' club at Nickelodeon Place.
Change into a plush robe and slippers and prepare to enjoy treatments that are as indulgent as they are therapeutic, all provided by professional staff. You'll feel far away from every care in the world in this exotic setting. Choose from ancient healing and enticing treatments like the Caribbean Organic Ritual, the Tibetan Mystical Experience and the Soul Mate Experience, one of several couples' treatments.
State-of-the-art equipment includes the dry sauna, chromo therapy showers, bubble beds, whirlpool and herbal steam room. Select from a menu of wellness experiences, such as relaxing massages, reflexology sessions, oxygenation therapies, and the hydrotherapy treatments — a perennial favorite among guests.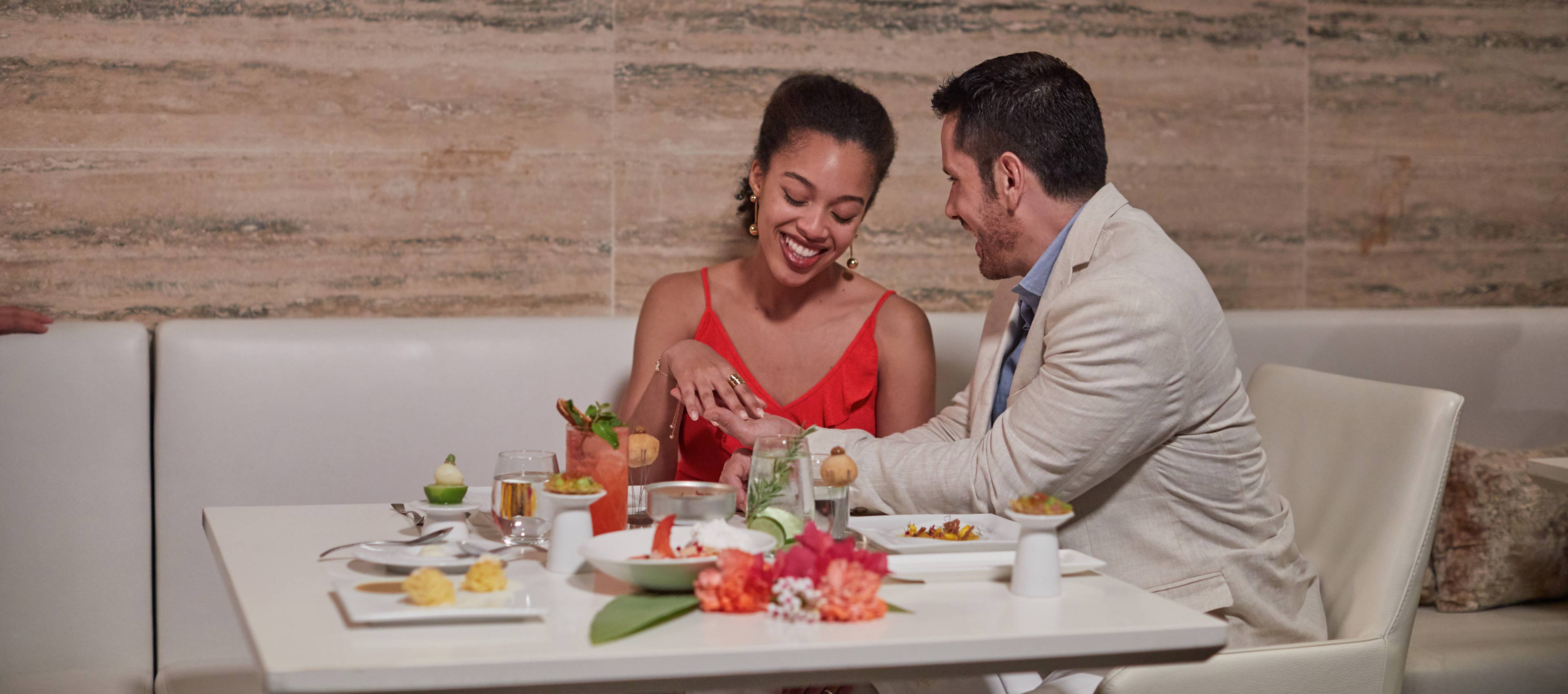 7. They Say:
Give Yourself a Night Off
We've Got You:
Enjoy a Date Night While We Babysit the Kids
Nickelodeon Hotels & Resorts truly deliver luxury escapes for all ages. With hourly babysitting service and an exquisite adults-only restaurant, the resort makes it easy for you and your sweetheart to enjoy a well-deserved date night.
Kitchen 23 by Le Chique is located in Gourmet Village. It is not included in the all-inclusive experience, but for a nominal surcharge it serves up an 8 or 16-course tasting menu you will never forget. Guests over 18 years of age are welcome, and a dress code is in effect, with long pants, collared shirts and casual shoes for men. For ladies, the dress code allows capri pants, dresses, skirts, long pants, shoes and dress sandals.
The elegant atmosphere is enhanced by high-end décor, including a grand piano, neutral color palette, and subtle lighting.
Described as Cuisine D'auteur, the tasting menu at Kitchen 23 is designed to delight the senses. Every dish is beautiful and delicious, using imaginative ingredients and techniques, including molecular creations and interpretations of traditional Dominican dishes, all with a flair you have to see to believe.
8. They Say:
Keep Older Kids Engaged and Involved
We've Got You:
Sports Hub, Teen Spa Treatments and More
With a ton of Nickelodeon-themed activities, the resort has preschoolers and little kids covered. But did you know that there are also activities for bigger kids and teens? (It's not like you can just leave them home. You've seen movies from the '80s!)
Tweens and teens can take full advantage of the Caribbean setting, enjoying family time at the beach, snorkeling in the sparkling blue waters or just lying back to soak up some Vitamin D.
At the Sports Hub sports facility and entertainment complex, they can enjoy all-inclusive tennis, archery, basketball, soccer, giant chess and a clubhouse with ping pong, foosball and a lounge area. A counselor plans sports and activities for them every day.
Or, if your teen is in the mood for some pampering, with your permission they can unwind at Vassa Spa with treatments formulated specifically for young skin.
They may even appreciate the chance to spend some quality time with their little brother or sister. You can feel confident taking a break while your responsible teen takes charge at Aqua Nick and Nickelodeon Place. Or maybe they want to take the little ones to lunch — it's all-inclusive, after all!