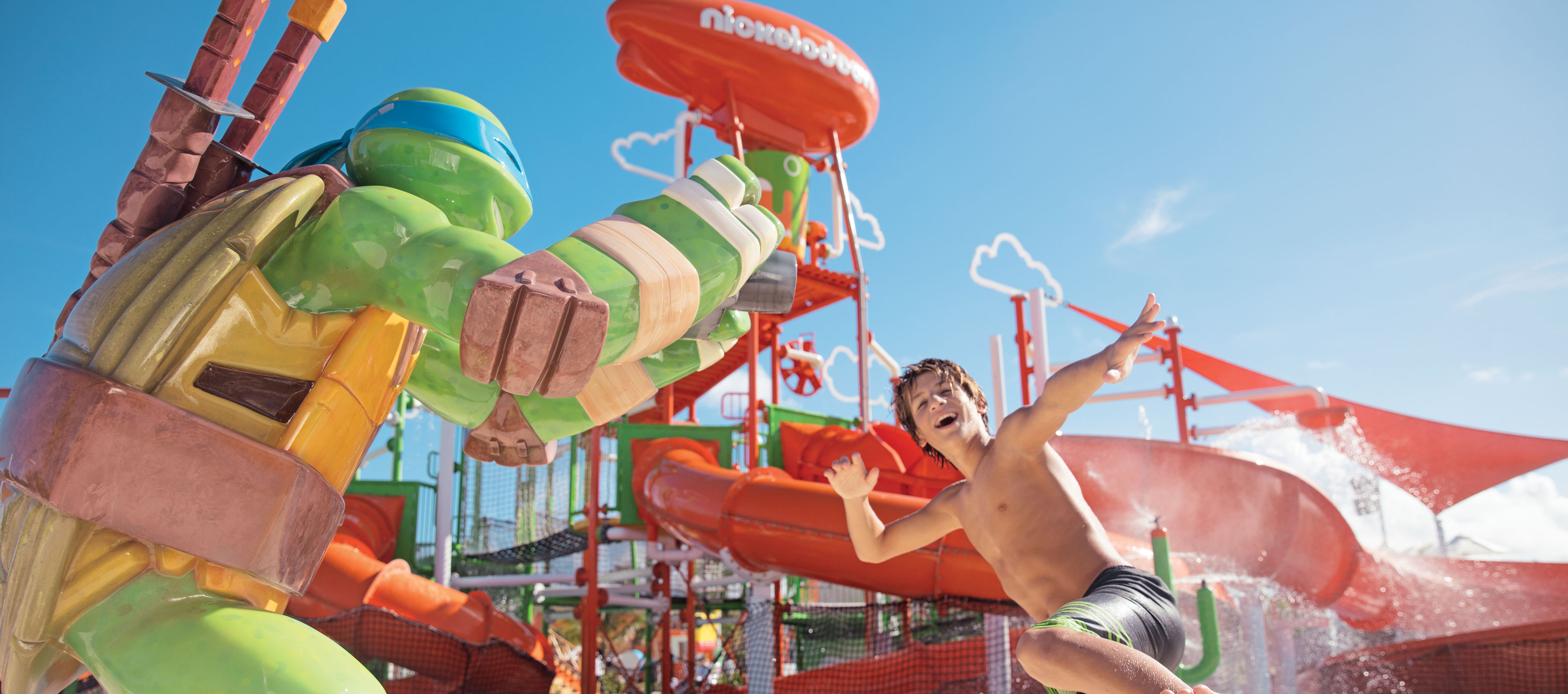 Here's a Top 10 list every guest can appreciate, including the guests who haven't learned to count to 10 yet. With a silly side and a sophisticated side, Nickelodeon Hotels & Resorts Punta Cana is among the best luxury resorts for family vacations. And with so many all-ages activities, choosing the ten best wasn't easy — but it was fun!
#1 – SPLASHY FUN AT AQUA NICK
With locations that enjoy year-round sunshine and blue skies, every season is water park season at Nickelodeon Hotels & Resorts. Aqua Nick is a full-on water fiesta, complete with lazy river, water slides, water cannons and fountains. Plus, touches of Nickelodeon color and characters take Aqua Nick above and beyond your average water park.
At the Aqua Nick entrance, you'll be greeted by a huge sculpture of SpongeBob, ready for action in his favorite swim trunks. From there, you could head for the lazy river and enjoy a relaxing inner-tube float around the perimeter of the splash park, passing more Nickelodeon friends along the way. Or the kids may want to head straight for the giant slides. And don't miss the main event at Nickelodeon Hotels and Resort Punta Cana: every few minutes a ginormous drench bucket fills with gallons of water. When it starts to tilt, kids and kids at heart all come running!
#2 – GET SLIMED
At Nickelodeon Resorts, 3:00 pm is Slime o'clock! All guests are welcome at the daily Mass Sliming, where everyone comes together under a massive cascade of of green Slime. (No worries, it's environmentally safe and rinses right off!) Even rinsing is fun at the pool or under Pick It — the giant Nose Shower inspired by Nickelodeon's classic mess fest, Double Dare.
You can make your Sliming even more special with a Personal Sliming* for up to four people. The Nickelodeon Resorts Team gets the energy flowing with a live dance before your family takes its turn at the ultimate Nickelodeon honor. And since your good, green fun will be captured on camera by Team Nick, you'll have a family vacation moment you can giggle about for years to come.
There are more games to enjoy during the Nick Live poolside show. Kids and adults can step right up and get silly, get Slimed and get LOUD.
*A surcharge applies.
#3 - TICKLE YOUR SENSES AT NICKELODEON PLACE
Aqua Nick is just one amazing part of Nickelodeon Place. The array of entertainment for kids and adults you'll find there also includes Character Central, Just Kiddin' kids club, NICK kNACKS, the Plaza Orange stage, and Nickelodeon-themed dining.
You might see SpongeBob, Dora the Explorer, the PAW Patrol or other characters strolling by, stopping for photos and high fives. And to make it easier for you to "plan" a surprise meet and greet for the kids, Nickelodeon Resorts provide a daily event sheet so you know where everyone will be. The kids will be tickled Nick!
NICK kNACKS is the resort's gift shop, where you'll find the ultimate collection of Nickelodeon merch. Browse clothing, toys, souvenirs, movies and apparel for every Nick fan.
Fuel up for more fun at Aqua Bite, a casual swimsuit-friendly restaurant near Aqua Nick, just steps from the pool. Open from brunch time to late afternoon, Aqua Bite serves burgers, pizzas, salads and ice cream. Dine al fresco or take a spin on the bright orange swing seats inside.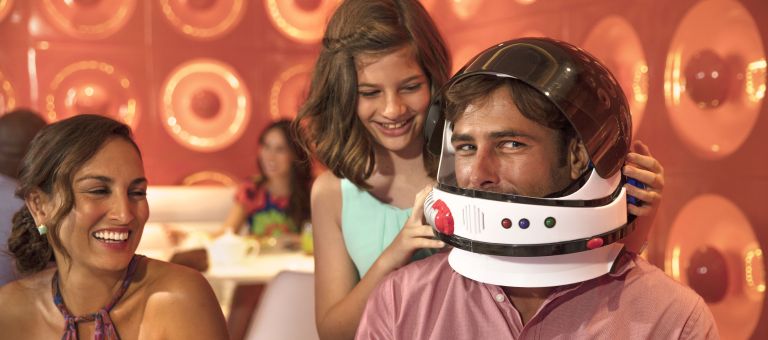 #4 – ENJOY GOURMET PLAY
With all the beachy family fun, everyone is sure to work up an appetite. Fortunately the variety of delicious, all-inclusive restaurants at Nickelodeon Hotels & Resorts ensures that no one ever goes hangry. Nickelodeon Resort Punta Cana features 12 restaurants and bars, plus in-room dining, while Nickelodeon Resort Riviera Maya, opening in 2020, will offer 10 premium restaurants and bars.
Selections at Nickelodeon Hotels & Resorts Punta Cana run the gamut of cuisines, including Italian, Asian, burgers, Mediterranean and something-for-everyone. At BRGRS.PH, hamburgers and cheeseburgers get an artisanal lift. You can't go wrong with perennial kid favorites like the awesome fries and appetizers. But for a once-in-a-lifetime family experience, you're going to want to order the giant Machete Burger!
The interstellar cuisine served up at Spacewalker is truly "out of this world." Picture a white chocolate ball that pops open when melted chocolate is poured on top, revealing a surprise dessert inside. But there's more to the experience than just food. The décor features glowing walls, futuristic white furniture and glow-in-the-dark menus. Guests don space helmets to be served unique, futuristic dishes in "space age" food containers by wait staff decked out in astronaut gear!
And you should know that Nick Resorts chefs take dietary restrictions seriously. Allergies — whether nut, gluten, dairy or other types — are happily accommodated if the staff is made aware.
#5 – HAVE A BEACHY DAY!
On the eastern tip of the Dominican Republic, you'll find some of the finest beaches in the Caribbean. This coveted vacation hot spot is also where you'll find Nickelodeon Hotels & Resorts Punta Cana.
You're always just steps away from the warm Caribbean sands and palm trees, so wake up early to show the kids a tangerine sunrise before breakfast, and enjoy an after-dinner stroll along the shore while listening to the rhythm of the waves. In between, you have all day to build castles in the golden sand, using the complimentary beach toys, or have fun with the boogie boards and snorkels that are also provided as part of the all-inclusive experience.
Reserve one of the beachside Bali beds and lounge all day like royalty while servers bring you cool drinks. These island-style beach beds are canopied and curtained so you can relax for hours near the surf. Big wicker sunbeds seat you even closer to the shore — and are roomy enough for a crowd to pile onto!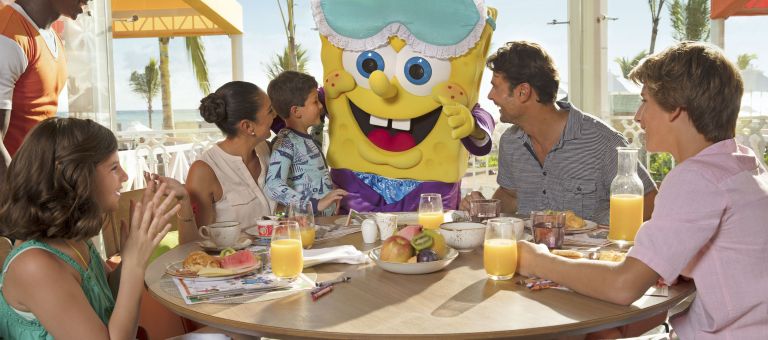 #6 - GET MORE TIME WITH SPONGEBOB AT A CHARACTER BREAKFAST
There's more than eggs and pancakes on the menu at the Character Breakfasts* at Nickelodeon Resorts. There's also fresh fruit and croissants...oh, and bacon, too! But the real hot item is spending unforgettable face time with your family's favorite Nickelodeon friends, like Dora the Explorer, Boots, SpongeBob SquarePants, Patrick Star and the PAW Patrol — all decked out in their pajamas and slippers. The dress code is sleepwear. Hence, the name Pajama Jam! So come wearing your best jammies and dancing slippers for a big dance party at the end.

While the kids get their morning hugs, you'll have plenty of time to savor the moments and capture the memories in photos. At the TMNT Turtle Power Breakfast, we kick your first meal of the day up a notch with cool ninja moves from Donatello, Leonardo, Michelangelo and Raphael. Booyakasha!
*A surcharge applies.
#7 - DROP THE KIDS AT JUST KIDDIN', OR BOOK SOME BABYSITTING
Just Kiddin' is the dedicated kids club at Nickelodeon Resorts, decked out in Nickelodeon-themed decor and filled with fun, age-appropriate activities for kids 4 to 12 years old. It has a mega ball pit, a two-story slide, a computer station and lots of hands-on activities guided by vibrant, energetic caregivers. It's also a cozy clubhouse where kids can make friends while they plop down and relax on the oversized pillows or enjoy snack time.
And while the kids are away, you get to play! After you drop them off at Just Kiddin', it's time to chill poolside with a good book and a cocktail from Jazmin Swim-Up Bar. And even after the kids' club closes, you can take advantage of our babysitting service to make reservations for the adults-only dining experience of Kitchen 23. Their refined cuisine includes a 16-course tasting menu of ultra-creative modern dishes that can't be found anywhere else, alongside traditional Dominican cuisine at its finest.
Nickelodeon Resorts promise an escape for all ages, and we're dedicated to making sure the adults have just as much fun as the kids.
#8 - ENJOY A FAMILY NIGHT OUT AT PLAZA ORANGE
Nickelodeon Place isn't just the play-all-day place to be; it's also a nighttime family entertainment venue that the whole family can enjoy under the Caribbean stars. Plaza Orange is an all-ages showcase of scheduled entertainment, including big-screen movies, magic shows, Cirque-style performances, local musicians, our signature Orange Carpet meet and greet, and dance parties with plenty of snacks and games for the kids.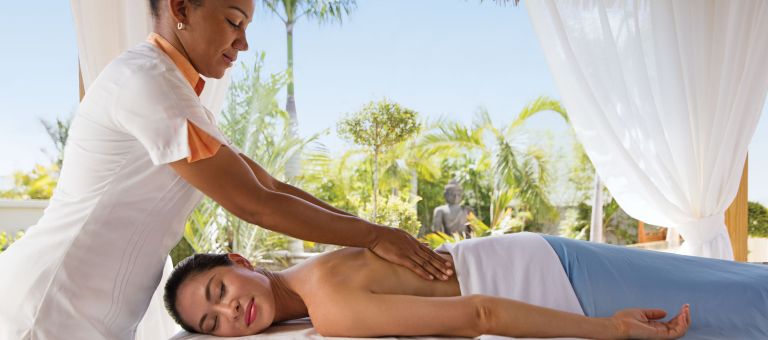 #9 - GET SPOILED AT VASSA SPA
Imagine 14,000 square feet of pampering in a lush, Indonesian-inspired oasis of luxury. Vassa Spa at Nickelodeon Hotels & Resorts might be your favorite relaxation experience ever. And because Vassa is a full-service spa, every sort of pampering is available, from head to toe.
While the kiddos are being entertained and supervised at Just Kiddin' kids' club, you can pull on a plush spa robe and slippers and pursue tranquility. Enjoy a quiet walk through the Zen garden, filled with statuary, stately palms and river rocks. Inside Vassa Spa, you'll encounter ancient healing rituals, talented professionals and state-of-the-art equipment such as a dry sauna, chromo therapy showers, bubble beds, whirlpool and herbal steam room.
Can you almost smell the essential oils? Take your pick from a menu of wellness experiences, such as relaxing massages, reflexology sessions, and oxygenation therapies. You'll find treatments with some very enticing names, including the Caribbean Organic Ritual, the Tibetan Mystical Experience and the Soulmate Experience, one of several couples' treatments.
And because you're never too young for a little pampering, we also offer a full menu of services for kids ages five and up!
#10 – LET THE CONCIERGE & BUTLERS TAKE CARE OF YOU
Between the all-inclusive food and beverage and the gracious service of the staff, a stay at Nickelodeon Hotels & Resorts is a parent's paradise. Making dinner plans? Just ask the Concierge to reserve your table at Vino Vino, Spacewalker, Verdello, Kitchen 23 and any of the resort's other gourmet restaurants. The Concierge will also book your excursions, so you can show your family the nature and culture of the destination. Exceeding expectations is their specialty.
From your accommodations to the pool to the beach, Butlers are a reliable presence, providing towels and drinks by the pool and beach and generally doing whatever it takes to make your stay as luxurious and comfortable as possible. Toddler Inclusive Amenities are on offer, so feel free to travel light and leave the baby gear at home, because your personal Butler can easily bring a stroller, pack n' play, high chair and other essentials to your suite.
You'll discover countless experiences — big and small — that make your stay at Nickelodeon Hotels & Resorts unforgettable. Start exploring the possibilities now.