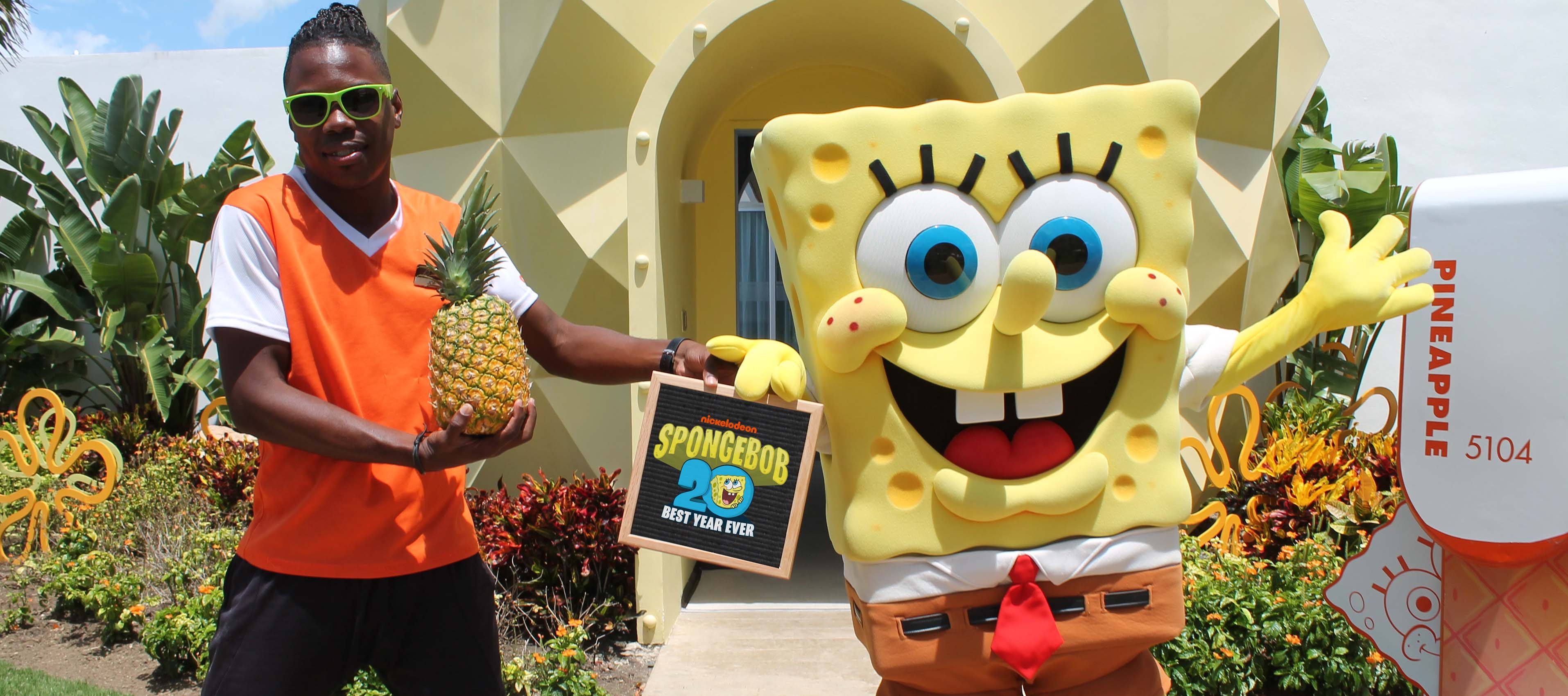 Do you remember where you were on July 17, 1999? If you weren't busy preparing for Y2K, you were probably watching the very first SpongeBob SquarePants episode ever! In addition to discovering a porous and yellow best friend for life, you were part of Nickelodeon history. This summer, you can be a part of history once again during SpongeBob's 20th anniversary at the five-star Nickelodeon Hotels & Resorts Punta Cana. "Best Year Ever" is an ongoing birthday celebration with special events happening daily from now into 2020, at this all-inclusive, luxury beach resort on the pristine sands of the Dominican Republic.
Happy Resort Happenings with SpongeBob and Friends
Whether you're planning a summer vacay, a fall or winter escape, or next year's spring break, you'll discover an assortment of daily and weekly themed activities and events that range from LOL to OMG. Just relax and play, knowing that the activities, food, drink and courteous service are all part of your all-inclusive stay at Nick Resort Punta Cana.
Every Friday, big weekly happenings will have you feeling festive upon arrival. You'll be greeted with a freshly carved piña (That's how we say "pineapple" in Punta Cana!) filled with a refreshing drink and sliced pineapple with a cherry on top. And you won't believe your eyes when you see all the colorful, frosted mini cakes just begging you to take a bite.
Keep your eyes peeled and your cameras handy for Character Meet & Greets and appearances starring SpongeBob SquarePants and Patrick Star at Plaza Orange, situated within Nickelodeon Place — a mega entertainment area for kids and adults that also includes Character Central, Just Kiddin' kids club, the Nick kNacks shop, the Plaza Orange stage, and dining at Aqua Bite.
Celebrate from Aqua Nick to the Beach
You're traveling with some animated characters of your own, and Nickelodeon Resort Punta Cana has plenty to keep them entertained! When the kids aren't at Aqua Nick water park slipping down the water slides, splashing with new friends, or getting Slimed, they'll enjoy a special Nick Live! poolside themed around SpongeBob. At Plaza Orange, you can take a refreshment break and also get creative at the Make Your Own Drink Competition. Who will mix up the delicious-est fruity pineapple drink? It could be you!
Daily delights at the resort keep the celebration going and going. And you'll appreciate all the festive touches in honor of SpongeBob's birthday, including themed activity sheets and décor at the Just Kiddin' kids club, as well as themed placemats at Zest restaurant, one of 13 food and beverage options, serving gourmet Mediterranean cuisine in a family-friendly environment. Zest also hosts the resort's famed Character Breakfasts every Saturday and Sunday, so start the day with SpongeBob and Patrick.
Step Inside SpongeBob's Pineapple Under the Sea
During the "Best Year Ever," you can also enjoy an exclusive tour of Nickelodeon Resort Punta Cana's one and only Pineapple Villa (pending availability). This pineapple-shaped, two-story villa is the resort's most lavish accommodation and features Bikini Bottom-inspired décor, like SpongeBob's easy chair, TV and Gary, too.
Great mother of pearl! What a way to celebrate the number-one animated kids series! Join in on SpongeBob's "Best Year Ever" and plan a one-of-a-kind, all-inclusive escape at nickresorts.com.