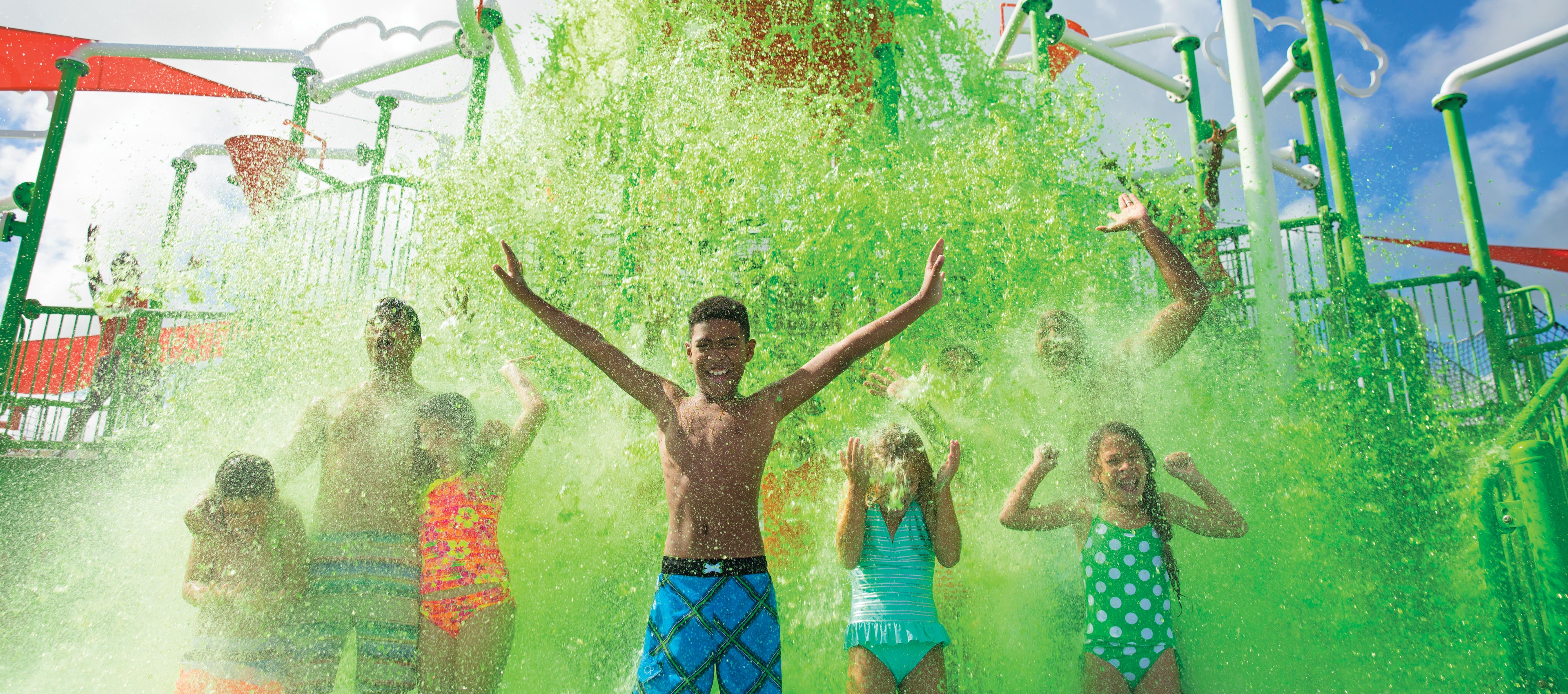 The all-inclusive experience at Nick Resorts isn't just limited to delicious gourmet food and beverages. Families also enjoy exclusive Nickelodeon resort activities, character encounters, entertainment, and of course, Aqua Nick, the place to be if you want to get Slimed at Nickelodeon Resorts.
Getting Slimed is one of our guests' favorite things to do. There's something special and mysterious about Nickelodeon's signature green goo. What's it made of? We'll never tell. What's a Nick Sliming like? That's something you'll discover as part of the all-inclusive experience at Nickelodeon Hotels & Resorts Punta Cana, open now, as well as Nickelodeon Hotels & Resorts Riviera Maya, opening in 2020.
Have the Slime of Your Life at Aqua Nick
Filled with gallons of fun, including spray jets, fountains and water slides, Aqua Nick is the water park of a Nickelodeon fan's dreams. Large, colorful character sculptures bring the Nickelodeon experience to life. And every day at 3:00 pm you'll see kids hurrying toward a very important appointment: the Mass Sliming. Everyone comes together under a massive cascade of green Slime. (No worries, it's environmentally safe and rinses right off in the pool or the nearby shower.)
For extra style points, you can plan out your pose for getting Slimed. It might be the moment to rock your best Ninja Turtle move. Or maybe you'll dab today and floss tomorrow. Or you might just blow up on social by creating the next viral dance. Whatever your move, it will look even cooler in slow-mo and covered head to toe in Slime!
Families Love PERSONAL Slimings
For an additional cost, you can also book a Personal Sliming just for your family at Aqua Nick. Your crew will be treated to a choreographed dance by Team Nick just before the big splat. Since phones and Slime aren't exactly compatible, Team Nick will also be on hand to capture the moment for you, so you can relive the fun over and over again.
Slime THROUGH THE YEARS
Maybe you've been dreaming of getting Slimed since you were a kid in the '80s, '90s, 2000s, or last week. Getting Slimed is the ultimate Nickelodeon rite of passage, going back to its debut on air in 1981 on You Can't Do That on Television. Through the years, Slimings have added mess and fun to shows and events from Double Dare to the Kids' Choice Awards. And at Nickelodeon Hotels & Resorts, we do them every day. Find a destination now.