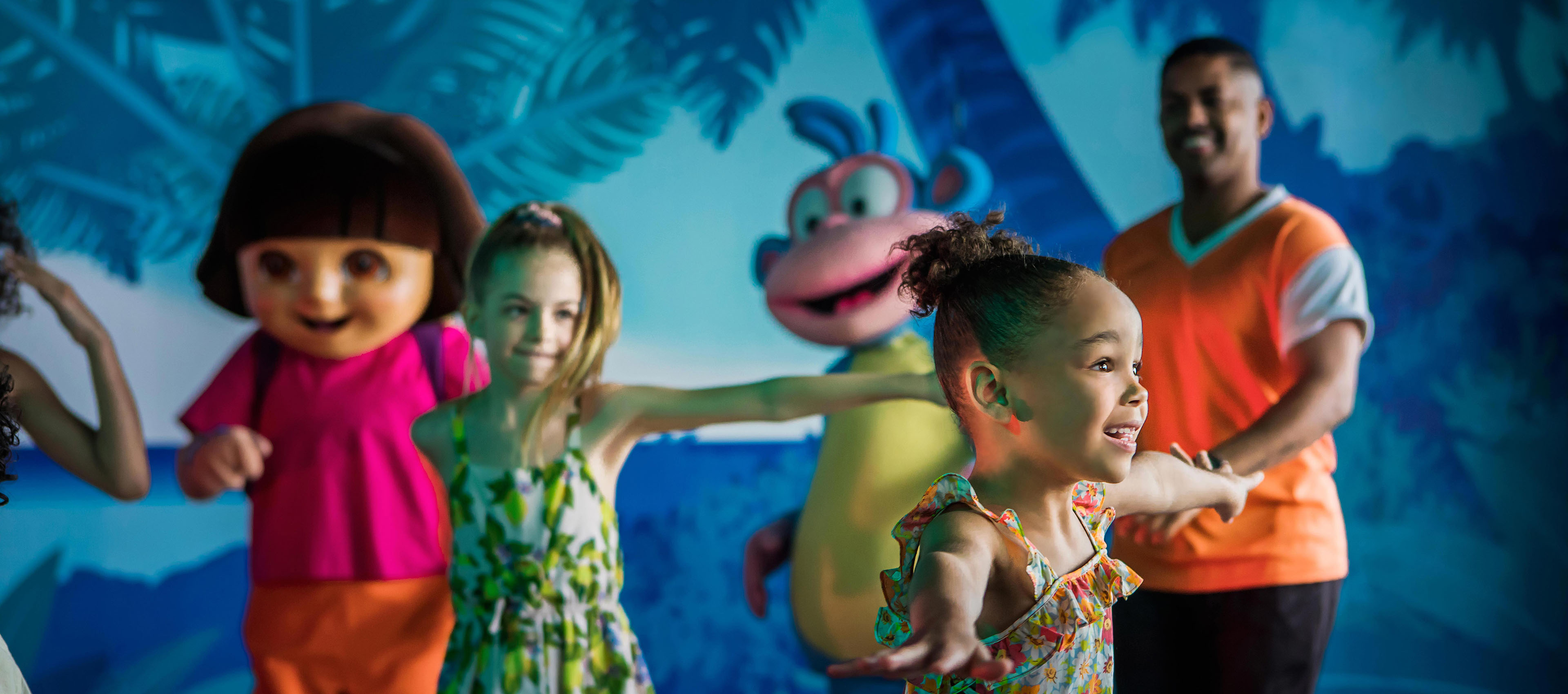 From September 1 to October 31, get ready to experience cuteness overload at Nickelodeon Hotels and Resorts Punta Cana. The Nick Jr. Friends Event will be back this fall, with activities and festivities designed especially for fans of Dora the Explorer and the PAW Patrol. That's in addition to all of the year-round Nickelodeon-themed awesomeness and Toddler Amenities that have made this five-star, all-inclusive Caribbean beach resort a family favorite.
A Special Deal Just for the Nick Jr. Friends Event
After the big kids return to school, you'll find this is an ideal time for a toddler and preschooler takeover at Nick Resort Punta Cana! And with significant savings available now, this is the perfect time to reserve your accommodations with up to 67% off your stay, plus a $170 resort credit that can be used for two adults and two children at a Character Breakfast and Personal Sliming. If vacations were cupcakes, this deal would be the icing on top of an already incredible escape.
Last year, Nickelodeon Resort Punta Cana's inaugural Nick Jr. Friends Event was a huge success, with families and kids enjoying quality time together as well as with some of their favorite Nick Jr. characters.
Dora and Boots and You!
Discover all of the Nick Jr. Friends Event activities ahead. Your little adventurers are going to love Dora's Friendship Fiesta — a dance party with food, drinks and kid-friendly tunes. Make sure you have your camera ready during the Meet & Greet with Dora and Boots — it's a full-on hug-fest! You'll enjoy special screenings of Dora the Explorer episodes at Plaza Orange, a cool entertainment venue inside Nickelodeon Place. There will also be an Arts & Crafts Party, plus Story Time with Dora, where kids can relax while Dora takes them on a storytime adventure.
Have a Puptastic Time with the PAW Patrol!
All the way from Adventure Bay, Chase, Skye and Marshall of the PAW Patrol are on hand for in-person Meet & Greets. When they see the German Shepherd police dog, cockapoo aviator and Dalmatian firefighter in person, your little ones will be "ready for action!" The puppy-powered fun really gets going with a new and extra-awesome PAW Patrol Scavenger Hunt, a PAWSome Menu of themed food and drinks, and special screenings of PAW Patrol in Plaza Orange.
Brand-New Nick Jr. Experiences
This year's Nick Jr. Friends Event features delightful new activities inspired by the fairies of Butterbean's Café and the Bubble Guppies mermaids. With a smile and "a flick of their whisk," young bakers-to-be can participate in Butterbean's Café cupcake and cookie decorating and arts and crafts. There will also be arts and crafts activities for Bubble Guppies fans. And we'll be screening episodes of both shows, so everyone can laugh and cheer together!
Always a Good Time at Nickelodeon Resort
In addition to these special fall activities, make time to enjoy our always-here excitement. Just Kiddin' is a kids-only playhouse for ages 4-12. Trained staff keep kids engaged with lots of "unplugged" Nickelodeon fun, including a mega ball pit, two-story slide and hands-on activities. At Aqua Nick, our little guests can enjoy pint-sized water slides, as well as fountains, splash pads, a jungle gym and Mass Slimings.
With the $170 resort credit you can book a Character Breakfast at Zest restaurant with Chase and Marshall of the PAW Patrol, SpongeBob SquarePants or Dora the Explorer. With the rest of your resort credit, capture an awesome Nickelodeon memory with a Personal Sliming just for you and your family.
When you book by September 30, rates start from $201 per person/per night, plus you'll receive the resort credit. You will also be eligible for the chance to enjoy the incredible Pineapple Villa Surprise Upgrade. Last year, one lucky family received a surprise upgrade to the luxury and whimsy of the world-famous, two-story villa inspired by SpongeBob's very own home. This year, it could be you! With 2,292 square feet, private butlers, premium amenities as well as some cool Bikini Bottom décor, the Pineapple Villa is a one-of-a-kind experience.
Join the Nick Jr. Friends Event and enjoy an unforgettable, all-inclusive fall escape at nickresorts.com. Book Now.