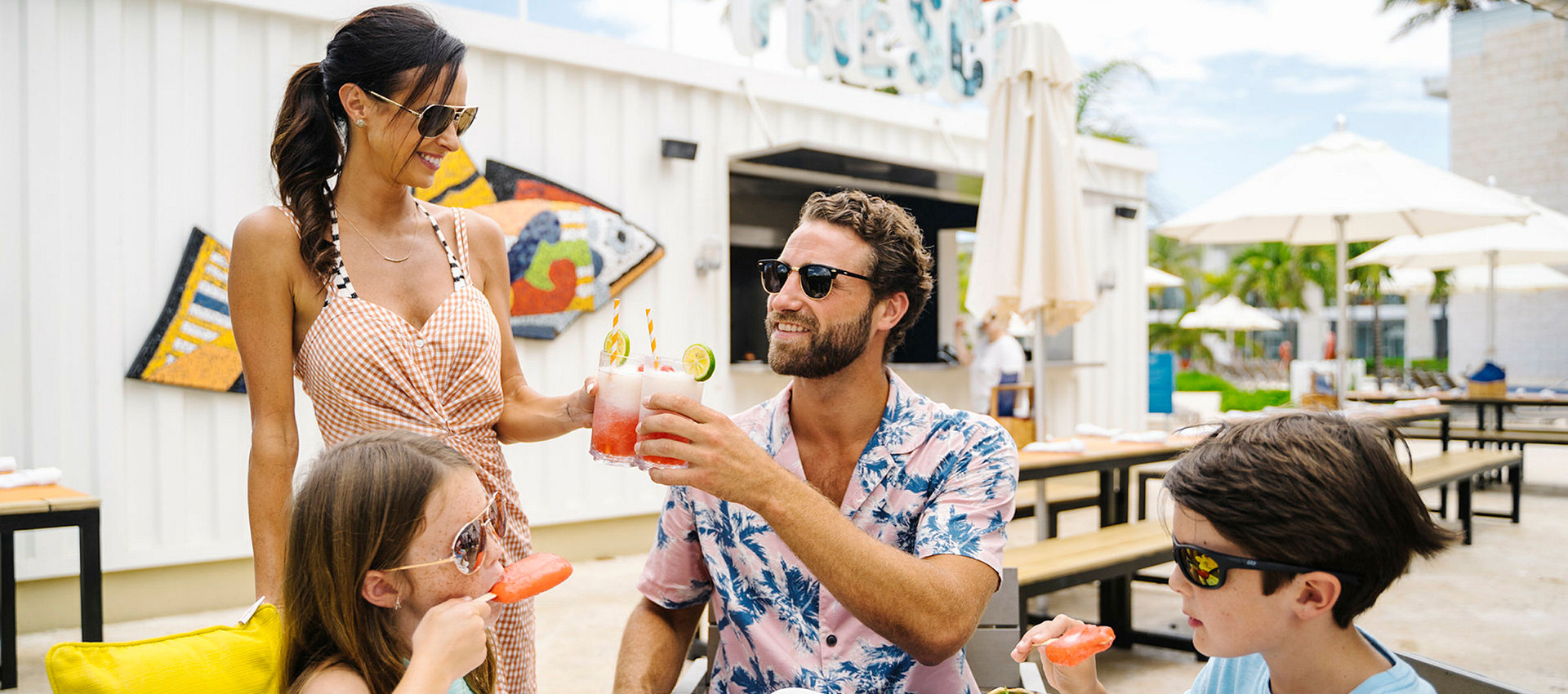 If you haven't visited an all-inclusive resort lately (or ever), prepare to discover a rare wonder: a luxury all-inclusive in the Caribbean that's as amazing, relaxing and fun for adults as it is for the kids. Nickelodeon Hotels & Resorts Punta Cana elevates family vacation packages with five-star style in the Dominican Republic. And when Nickelodeon Hotels & Resorts Riviera Maya opens on Mexico's Caribbean coast in 2021, expect the same level of all-ages play designed for your family.
ALL-INCLUSIVE DELICIOUSNESS: GOURMET ALL DAY
Food is the first thing we think of when we hear "all-inclusive" and for good reason. Vacations should be all about indulgence and pampering, without worrying about where every meal is coming from and how to accommodate every preference. That's why no escape is more carefree than an all-inclusive vacation.
At Nickelodeon Resorts, you can expect gourmet, nutritious options for breakfast, lunch and dinner as well as mid-day snacks and room service. The resorts feature an assortment of restaurants ranging from casual to haute cuisine so that families are free to explore new flavors as well as familiar favorites.
Youngsters have more sophisticated palates these days, so the umami goodness of sushi, Thai curry or pasta puttanesca might be their thing. Others might prefer classic comfort food, like pizza, burgers and mac & cheese. You can relax as the kids try and taste their way through the menu, knowing that if grilled asparagus doesn't please their palate, chicken fingers are on the way.
We know how to pamper grownup palates too, with a selection of sophisticated dishes that erupt with flavor. Savor fine ingredients in every bite, from the appetizers to the entrées to craveable desserts. Then order that merlot, mojito, rosé or after-dinner espresso from your gracious server, because drinks are always included at the restaurants and resort bars. Need to accommodate a special diet? You'll get extra-special attention in our kitchens. Nickelodeon Resorts chefs know how to keep the allergens out and still keep the flavor in.
All-inclusive resorts are the most convenient and carefree way to travel with kids as well as extended family. And at Nickelodeon Hotels & Resorts, all-inclusive is about so much more than food!
ALL-INCLUSIVE PLAY: NO LINES, NO WAITING
Imagine a family vacation that balances play and relaxation in one destination. When you don't have to take a shuttle bus to the fun or wait in lines, there's so much more time to enjoy. At Nickelodeon Hotels & Resorts, the fun is always within arm's reach and it's all-inclusive.
Pajamas off, swimsuits on! Aqua Nick is most kids' first destination every day. They love the Mass Slimings, squirt devices, water jets and colorful Nickelodeon-themed surroundings. Meanwhile, parents can ride an inner tube along the lazy river, float in the sparkling infinity pool with swim-up bar, or relax on a nearby lounge chair with a cool cocktail. The kids are having a blast nearby, but you can relax and feel far, far away.
Aqua Nick is also headquarters for iconic Nickelodeon moments. Post a crowd-pleasing video of your family grinning from ear to ear as they get doused in Nickelodeon's famous green Slime. Or take an epic family selfie with SpongeBob SquarePants, Chase and Marshall of the PAW Patrol, Dora the Explorer or other favorites. They're always eager to make new friends and pose for pictures.
ALL-INCLUSIVE KIDS CLUB: THE ULTIMATE PLAYDATE
There's kids-only fun all day long at Club Nick — an indoor play area that's part clubhouse and part artist's studio. The trained staff directs age-appropriate activities, and there's plenty of unplugged play with toys and games as well. A two-story slide winds into a mega ball pit, and Dora the Explorer even stops by for story time!
When you choose an all-inclusive family vacation at Nickelodeon Hotels & Resorts, you know that all the surprises will be good ones. So you will get special appearances by SpongeBob, but you won't get any unexpected surcharges. Not even the guacamole is extra! Nickelodeon Hotels & Resorts opens up a world of discovery for kids and families, one all-inclusive extravagance at a time.