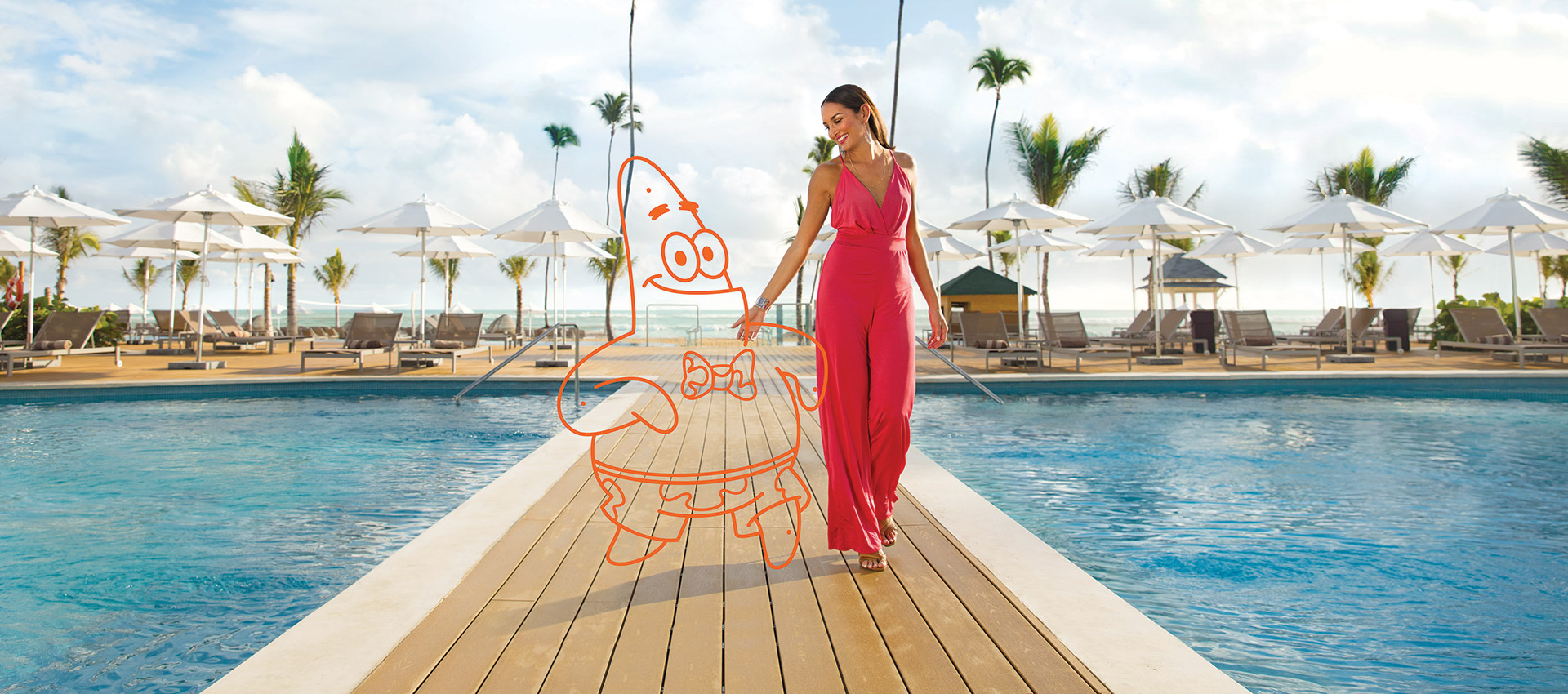 Did you know that Nickelodeon Hotels & Resorts Punta Cana also has laid-back and fun places and activities for adults? Beyond the awesome all inclusive family vacations fun of Aqua Nick, Character Breakfasts, Slime and delicious casual dining, you'll also find some excellent reasons to enjoy some of our adults-only activities and leave the kids with one of the resort's highly qualified babysitters.
Finding the perfect balance of maximum kid fun and fun things for adults to do seems like a vacation unicorn, but it's what Nickelodeon Hotels and Resorts do best. Pack something nice—you have a date night in your future.
Sips and Sounds at Vino Vino Wine Bar
You've been enjoying all-inclusive beverages at the Swim-Up Bars all day, but sundown is approaching and you're in the mood for worldly wines and mellow music. Contemporary Italian-style sophistication, piano music and a premium wine selection come together to give you an elegant evening out at Vino Vino, part of your all-inclusive dining and drinks experience and one of the fun places for adults at Nick Resorts Punta Cana. This Gourmet Village wine bar is open every day from 6:00 pm to 1:00 am, so pop in any evening and start uncorking upscale fun.
Guests of Nickelodeon Resort Punta Cana repeatedly say that the bartenders are friendly and knowledgeable, and they're right. So enjoy some good conversation between sips while you listen to sets from the pianist at the baby grand piano. The white piano, along with the curved white walls and white leather settee create an elevated European ambiance. Relax beneath the subtle illumination of crystal chandeliers while you sit in a modern velvet poltrona (a fancy Italian word for "armchair") and enjoy live music with a glass of red, white or sangria in your hand.
You don't need a reservation for Vino Vino, but you do need to observe the dress code. This is your opportunity to dress up a little and wear that special outfit you packed just in case. The ladies dress code includes capri pants, dresses, skirts, long pants, shoes and dress sandals. Of course, stilettos are welcomed as well. Gentlemen can wear long pants or dressy Bermuda shorts, collared shirts, dress sandals and casual shoes.
Also, if you would rather keep the kids with you, it's okay. They're welcome until 10:00 pm, but after that Vino Vino can be kids-free, because it's 18 and over only.
Culinary Art at Kitchen 23 by Le Chique
For a meal that is a breathtaking gourmet experience, make reservations at Kitchen 23 by Le Chique. The atmosphere and menu are too sophisticated for kids, which is why Kitchen 23 is one of the favorite things to do for adults at the resort. While your little ones are with the Nickelodeon Resort babysitter, you'll be enjoying plates of innovative and enticing Cuisine D'auteur during your chic evening out.
The chefs at Kitchen 23 by Le Chique use creative ingredients and techniques to serve molecular and traditional dishes with presentation and service that are unforgettable. From small plates with big flavors to unique expressions of Dominican cuisine, the menu caters to everyone, including vegetarians. The wait staff is knowledgeable and always happy to make recommendations and assist with wine pairing.
Le Chique keeps the ambiance upscale by maintaining a dress code. Except for not allowing shorts, the dress code is the same as Vino Vino.
Impossible Pampering at Vassa Spa
Imagine feeling soothed and smoothed from your head to your shoulders to your tippy toes. While you're at it, your elbows and fingers might like some attention, too. During your stay at Nickelodeon Resort Punta Cana, reserve some time for yourself at the resort's sumptuous Vassa Spa.
From indoors to outdoors, you'll feel the tranquility of Far East-inspired surroundings. Inside, 14,000 square feet of space includes an herbal steam room, dry sauna, chromo therapy showers, bubble beds and a whirlpool. The wide selection of professional treatments feature soothing ingredients such as natural plant extracts, the antioxidant power of Vitamin C, bamboo and, of course, the restorative power of touch. Select from massages, facials, scrubs and other treatments that are designed specifically to calm, strengthen, enlighten, brighten or tighten.
Discover the Tibetan Mystical Experience, a balancing treatment for the mind, body and inner self. Aromatic pillows, the application of essential oils, and the use of Tibetan singing bowls come together to create a restorative environment and treatment, giving you true mental clarity.
Couples can enjoy specially designed romantic services together, including the Moonlight Massage or Soul Mate Experience. During the Moonlight Massage, you and your sweetheart will enjoy a full body relaxing massage on the Caribbean beach. The romantic atmosphere is enhanced with tuxedo strawberries—strawberries "dressed" in white and dark chocolate—and a bottle of sparkling wine. The Soul Mate Experience is one of the many activities and fun places for adults in the resort. It will leave you feeling renewed and replenished with a fusion of essential oils and revitalizing massage techniques. This treatment is accompanied by a special tea infusion.
A Nickelodeon Wedding: Adulting At Its Best
Wouldn't it be amazing to share your love of Nickelodeon with the love of your life? Fortunately, Nickelodeon Resort Punta Cana can make that happen with a destination wedding at your choice of outdoor venues beneath the beautiful Caribbean sky. Your dream wedding can be a ceremony in the sand or on the rooftop terrace.
Our team of wedding planners will help you make everything perfect for your big event, from catering to décor to luxury accommodations for family and friends. When fans of Nickelodeon programs grow up, they still have a place in their heart for SpongeBob SquarePants, the Teenage Mutant Ninja Turtles and other old friends. So of course you can invite one of these special characters to your ceremony.
Invite SpongeBob SquarePants, Dora the Explorer or other Nickelodeon pals to your unique reception or Character Breakfast. The bride and groom can also enjoy the unforgettable honor of a complimentary Private Sliming for two, as well as hair and makeup for the bride. These are amazing wedding memories!
When you can enjoy SpongeBob silliness, a family Sliming and molecular gastronomy all in one trip, you know you've chosen the right family resort. Explore things to do for adults at Nickelodeon Resort Punta Cana and book here.