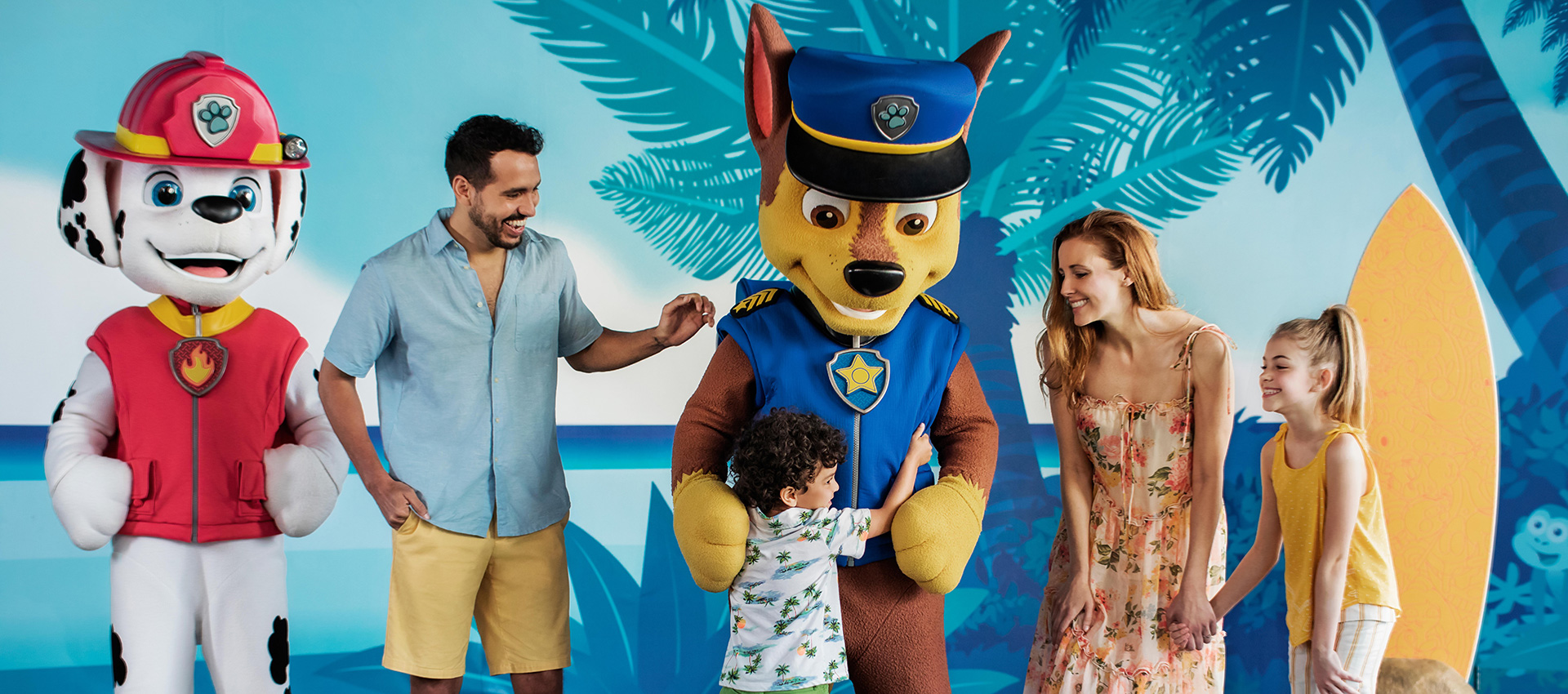 What sets Nickelodeon Hotels & Resorts apart from every other all-inclusive getaway? Nickelodeon characters! Only at Nickelodeon Hotels & Resorts Punta Cana and the upcoming Nickelodeon Hotels & Resorts Riviera Maya, opening in 2021, can you book a vacay with SpongeBob SquarePants, Patrick Star, Dora the Explorer, the PAW Patrol, and the Teenage Mutant Ninja Turtles.
Character Breakfasts Serve Up Awesome Memories
Zest restaurant usually serves up delicious Mediterranean lunchtime cuisine, but on Thursday, Saturday and Sunday mornings, we flip the script at this beachfront venue with Character Breakfasts*. Eggs, bacon, pancakes, fresh fruit, juices and more are on the menu, so grab a plate, find a table and get ready to make some new friends! Dora the Explorer, Boots, SpongeBob SquarePants and Patrick Star go from table to table, posing for pictures. At the TMNT Turtle Power Breakfast, Donatello, Leonardo, Michelangelo and Raphael will even be showing off some of their ninja moves!
* A surcharge applies.
Character Meet & Greets with SpongeBob and More
If you're on the lookout for fun things to do at Nick resorts, you need to check out Nickelodeon Place! The kids club, Nick kNacks, the Plaza Orange stage, and Aqua Bite restaurant are hot spots. If you're hoping to bump into a certain bright yellow sea sponge and his friends, then you want to be at Plaza Orange.
Hang out anytime and you might spot Dora the Explorer and Boots, SpongeBob SquarePants and Patrick Star, the Teenage Mutant Ninja Turtles, or those heroic pups Marshall, Chase and Skye from the PAW Patrol. They're always eager to pose for selfies and give an enthusiastic high five to fans of any age.
Share Special Moments with Dora
Located inside Nickelodeon Place, Just Kiddin' is a supervised kids-only fun zone where guests ages 4 to 12 years old get to hang out with folks their own age. In addition to Nickelodeon-themed décor, a mega ball pit, a two-story slide, computer station and hands-on activities guided by vibrant, energetic caregivers, Nick Jr. fans get to enjoy Story Time with Dora & Boots! While the Just Kiddin' staff reads Little Red Riding Hood with full audience participation, Dora the Explorer pops in to spend time with her preschool friends. (Fun Fact: Did you know "Little Red Riding Hood" in Spanish is "La Caperucita Roja"?)
What's Poppin' at Plaza Orange? Nickelodeon Characters!
Also part of Nickelodeon Place, Plaza Orange is party central at this Caribbean beach resort. Enjoy scheduled events at this outdoor venue, including shows and performances starring SpongeBob, Patrick, Dora and other Nickelodeon characters.
Visit with Dora, Diego and PAW Patrol During the Nick Jr. Friends Event
When summer break is over and the big kids are back in school, it's a toddler's world at Nickelodeon Resort Punta Cana! From September to October, bring your preschoolers to the Nick Jr. Friends Event and enjoy activities and festivities designed especially for fans of Dora the Explorer and the PAW Patrol.
All sorts of Nick Jr. themed activities lie ahead, including Dora's Friendship Fiesta — a dance party with food, drinks and other Nick Jr. friends. Have your camera ready during the Meet & Greet with Dora and Boots as well as Story Time with Dora & Boots.
Chase, Skye and Marshall of the PAW Patrol will join the fun all the way from Adventure Bay. They'll be posing for pictures and giving hero high-fives during in-person Meet & Greets.
From daily character encounters to special events, Nick and Nick Jr. superfans have amazing memories ahead. Plan an all-ages luxury getaway now, at Nickelodeon Hotels and Resorts.
Explore More Character Meet-Ups Around the World
With Theme Parks, Museum Exhibits, Entertainment Centers and Live Shows & Festivals starring Nickelodeon characters, it's easy to have more SpongeBob, Teenage Mutant Ninja Turtles, PAW Patrol and other characters in your life. Visit the Experiences by Nickelodeon site to find fun near you.