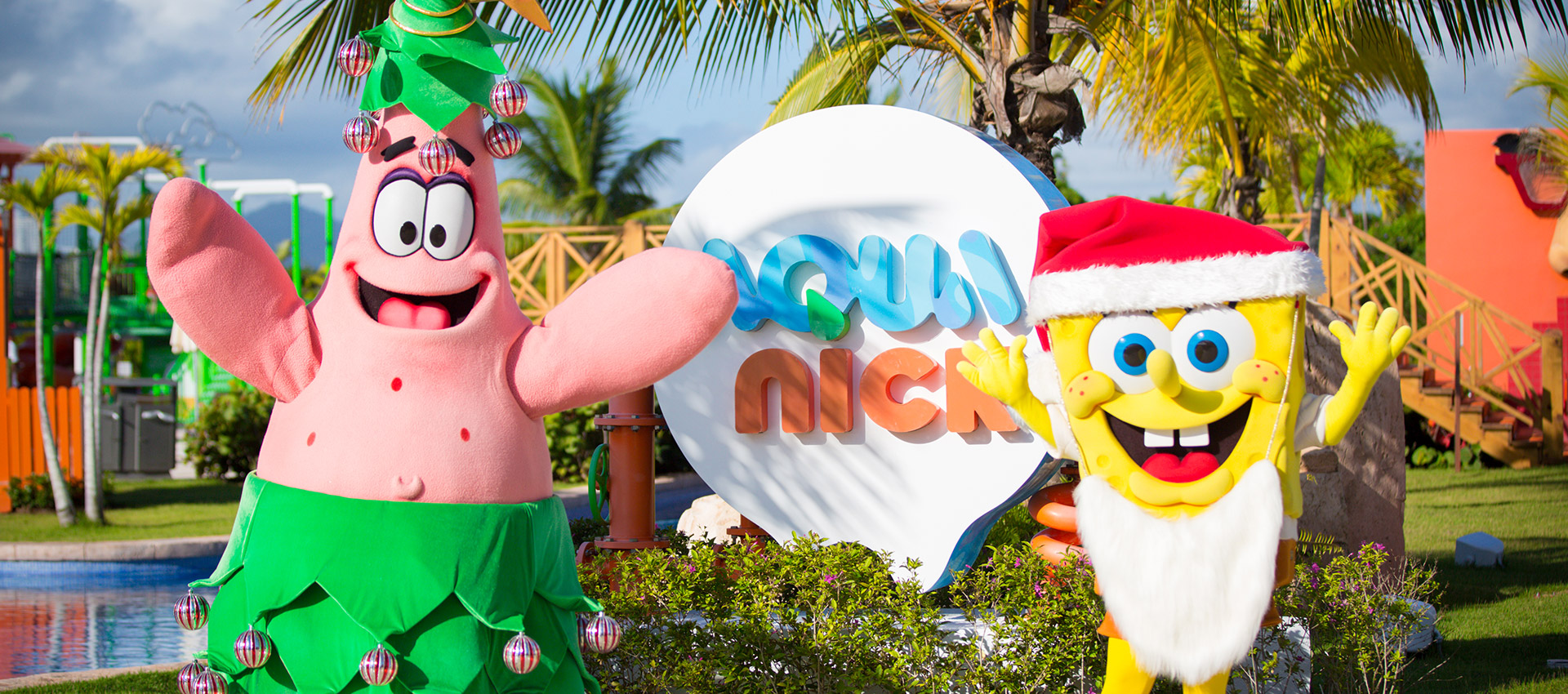 From online learning to social distancing, this year has been a doozy for kids and families. That makes having a special family holiday season more important than ever. The Nickelodeon Hotels & Resorts Punta Cana all-inclusive family experience invites you to have a safe and easy holiday escape. Of the Punta Cana all-inclusive resorts, there is only one that combines Nickelodeon-themed fun, holiday-themed festivities, and Peace of Mind™ safety measures managed by Karisma Hotels & Resorts.
In addition to the festive activities, there's another great reason to book holiday travel to Nickelodeon Hotels & Resorts Punta Cana: the Black Friday deals! It's advised to avoid the crowded stores this year, so eliminate the risk and shop Black Friday online. Watch the offers page to be the first to book.
Family Traditions and Ideas for Festive Fun with Nick
The holiday activities that families fell in love with last year are back, but new considerations have been put in place to make sure everyone is safe and comfortable. Layouts have been redesigned at public spaces, so guests can spread out. Social distancing rules are in effect, including at restaurants, Character Breakfasts, Club Nick, and Aqua Nick. Masks are mandatory, there's temperature monitoring for guests and staff, and sanitizing stations are plentiful.
On December 24th and 25th and on December 31st and January 1st, you'll have a ball with daily holiday-themed activities designed to make your stay memorable, seasonal and picture-perfect. There will be Christmas crafts, a Mess Lab and cooking classes at Club Nick. Enjoy the Meet & Greets, Christmas Costume Party and Character Flash at Plaza Orange. Cozy up with holiday movies at Gourmet Village. And grown-ups will love the seasonal spice of hot wine and eggnog also at Gourmet Village.
On December 25th, activities include a Christmas Costume Party and Christmas Show. Stay up late and ring in the New Year with Nick-style celebrations, including live music, a countdown to midnight, and more. Here's a great idea: start a New Year's tradition with a Personal Sliming at Aqua Nick!
Enjoy Punta Cana with all-inclusive family ease.
Rather than hosting a family gathering at your home this year, let Nickelodeon Hotels & Resorts Punta Cana do the cooking, the cleaning and the entertaining. With 13 dining and drink options including restaurants, cafes, bars and room service, there's deliciousness to be enjoyed by everyone. And because the food and drink are all-inclusive, feel free to enjoy a new discovery at every meal or focus on your favorites.
Take your pick of 10 luxe and spacious types of accommodations and rest assured that your Swim-Up Suite, Swank Pool Plunge Suite, or Pad Swim-Up Suite (to name a few) is clean and sanitized prior to your arrival. With the super-spacious Pool Super Villa or Pineapple Villa, up to six guests can spread out in more than 2,000 square feet, plenty of room for social distancing with extended family.
You're never too far from Punta Cana snorkeling at the warm golden beaches of the Caribbean, making a splash at Aqua Nick water park, or getting a cool surprise with a sighting of SpongeBob SquarePants, the PAW Patrol, Teenage Mutant Ninja Turtles, or Dora the Explorer.
Choose Holiday Travel with Peace of Mind at Nickelodeon Hotels & Resorts Punta Cana
One of the safest ways you can travel is to first choose a resort that is taking extra precautions to protect your family's well-being. Nickelodeon Hotels & Resorts is that place. Managed by Karisma Hotels & Resorts, the Peace of Mind™ features at Nickelodeon Hotels & Resorts Punta Cana cover an abundance of protective protocols designed so that you can enjoy your well-earned relaxation.
Featuring the expertise of seven leading health and wellness organizations, the Peace of Mind initiatives encompass comprehensive cleaning protocols, including keeping up with Delos Well Living Lab research. The cleanliness standards of the Karisma Peace of Mind initiative are also certified by the top three leading independent safety and sanitation agencies: Check Safety First, Cristal International Standards and EarthCheck.
Travel Safely from Home to the Resort
Traveling with kids has its built-in challenges, but it's all worthwhile when you're giggling together at Nickelodeon Place or watching the antics of SpongeBob SquarePants and Patrick Star at a Character Breakfast. Nevertheless, you can always make family travel more easygoing with a few Covid-aware tips compiled from WashingtonPost.com.
While you're traveling, airport restaurants may not even be open. That's why it's a good idea to pack your own snacks and homemade meals, so you'll be all set when everyone starts getting peckish.
When you board the plane, although airlines are cleaning more thoroughly these days, it's still a good idea to disinfect any touchable areas, including the tray tables, window shade and armrests. Also, leave the plush toys at home since they are harder to clean. Instead, bring activities that the kids can enjoy in their seats, including holiday-themed coloring books, word finds and travel-sized versions of their favorite games. Download a few fun holiday shows and movies to your devices, such as "Dora's Christmas Carol Adventure" and "It's a SpongeBob Christmas!"
Find the Best Time to Visit Punta Cana
To ease some of the concerns of travelers, the Dominican Republic is offering visitors a temporary, free travel assistance plan until December 2020. In addition to general emergency coverage, the free insurance plan covers Covid-19 testing, as well as cost coverage for unexpected stays. As always, before you leave home, it's best to stay abreast of the latest holiday travel safety information for the Dominican Republic.