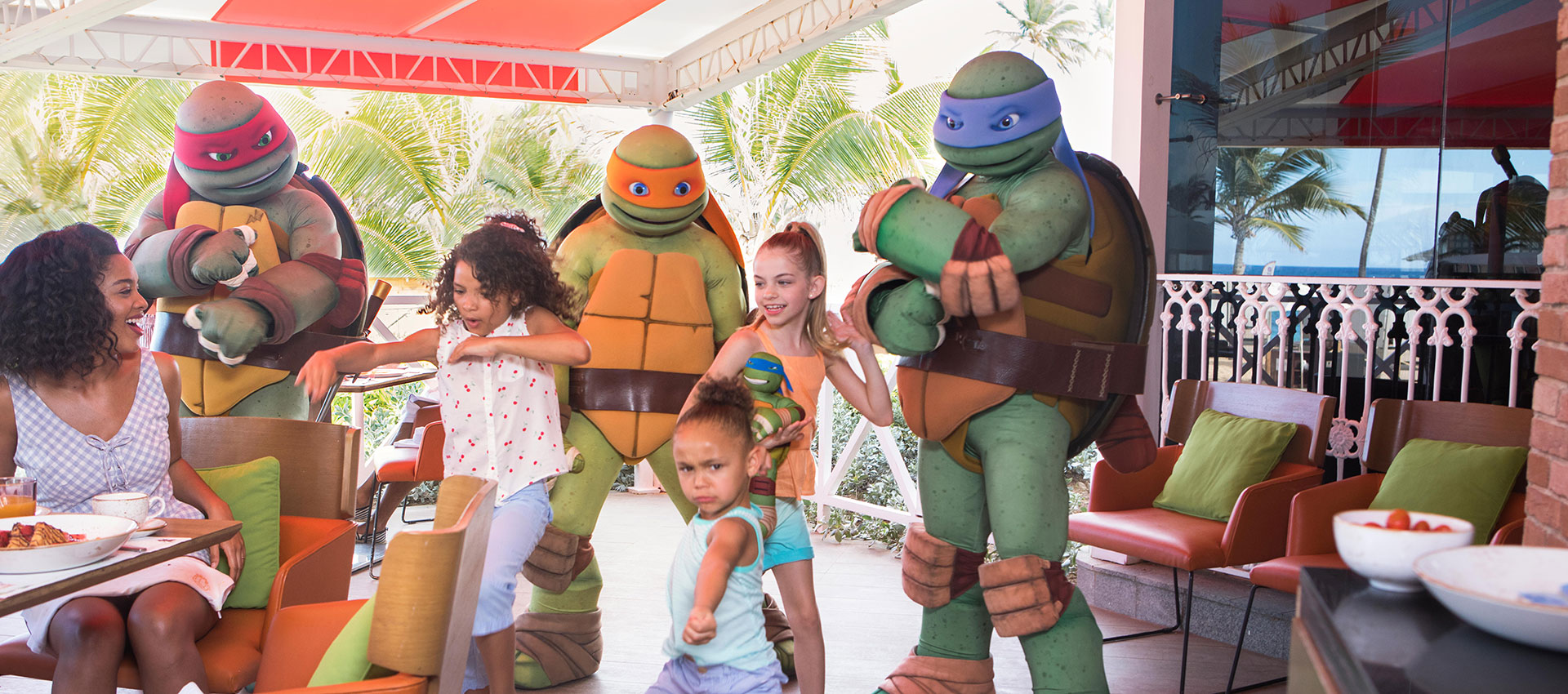 After you pick the kids up from school or sign out of online learning for the day, unwind together with a few back to school ideas that are sure to make everyone smile. While you're dreaming of your next chance to slip away to a luxury, all-inclusive Nickelodeon Resorts beach vacation, you can bond over your love of Nickelodeon characters and share family fun every day. These activities for kids are also great conversation starters, so take this time to get to know what's on their mind, what they're into, and how they're feeling.
TMNT Pizza Is Delicious Homework Fuel
Reward a great day at school while sharing some Turtle Power with everyone's favorite food: pizza! Donatello, Michelangelo, Raphael, and Leonardo (a.k.a. the Teenage Mutant Ninja Turtles) are known for their ninjutsu skills and their love of pizza. Delicious pizza is on the menu poolside at Aqua Bite restaurant at Nick Resorts, part of the resort's all-inclusive experience. Dine al fresco at the table or in one of the cool orange swings.
Create your own cowabunga cuisine with this TMNT Raphael Pizza Face recipe available on the Nickelodeon Parents website. (It's easy as pie!) Start with a frozen cheese pizza or, if you're extra ambitious, make your own. Bake according to the directions, then top with the following fresh ingredients:
Broccoli, steamed
1 Red pepper, sliced into thick strips
1 Mini mozzarella ball, sliced in half
12-15 Olives, sliced in half
2 Pepperoni rounds, sliced in half
Use a photo of Raphael as your guide, then place the toppings. Arrange the sliced red peppers for his red mask. Place the mozzarella slices for each eye, and add an olive half for each of the pupils. Next, you'll create a half-moon-shaped mouth with the remaining olive halves. Then finish off your creation by stacking pepperoni halves for the tongue, and fill the rest of the open space with broccoli for the face. With a mix of gooey cheese and healthy veggies, this mutant creation is good enough to eat.
Conversation Starter: "What do you and your friends talk about at lunch?"
Make Magic with Shimmer and Shine Genie Gems
Genies-in-training Shimmer and Shine sure know how to sparkle. Get inspired and add some dazzle to your after school routine with a glitter-rific craft that's worthy of Club Nick, our kids-only hangout designed for ages 4-12 years old at Nickelodeon Hotels & Resorts Punta Cana.
All you'll need to get started are smooth, flat rocks, such as river rocks from your local garden center, as well as paint, stickers, glue, glitter, and plastic gems to make Shimmer and Shine Genie Gems. You can use their personal style for your design inspiration. Shimmer has pink hair and blue eyes and always wears a purple genie outfit with matching shoes. She also wears pearls and green jewels. Meanwhile, Shine has blue hair and big, purple eyes. She wears a teal colored outfit with gold slippers. And don't forget about their adorable pets, Tala and Nahal! Tala is a sweet purple and gold monkey, while Nahal is a lavender tiger with swirly stripes and a violet jewel.
The kids' personal creations will make great wishing stones, room décor or gifts for their friends at school.
Conversation Starter: "If you could wish for anything what would it be?"
Kick It Like a Ninja Turtle with TMNT No-Sew Hero Masks
Get your family super pumped for school time early by hosting your very own TMNT Turtle Power Breakfast, inspired by the Character Dining at Nickelodeon Resorts. Use the TMNT masks from the Nickelodeon Parents website to really start the day off in style.
They are so easy to make, you don't even need to know how to sew! Just download and print the one-piece template, place it on top of your preferred fabric, and carefully cut out the mask. Felt fabric is a great choice, as well as polyester, cotton or satin.
The most important step is deciding which Teenage Mutant Ninja Turtle everyone wants to be. Leonardo wears the blue mask. Raphael wears the red one. Donatello wears purple. And Michelangelo wears orange.
Conversation Starter: "So are you Leonardo, Raphael, Donatello, or Michaelangelo? Why?"
Redecorate Their Room with Nickelodeon Flair
When we designed the luxe accommodations for Nickelodeon Resorts, we were of course inspired by the Nickelodeon characters, colors, and sense of fun. You can be too.
From the Swank Plunge Pools Suites to the Royal Swim-Up Suite, the resort features special touches of Nickelodeon woven in sleek and modern design elements. We even took the vibe above and beyond in the Pineapple Villa, featuring a one-of-a-kind anteroom decorated with SpongeBob's easy chair, television, and even his pet snail Gary!
For your own project, invite the kids to start the new school year with a new look. Consider painting a wall or two orange. Stencil green slime on the wall, starting at the crease of the ceiling. You could also add bedding that features their favorite Nickelodeon characters. And when you add a bowl of fish featuring SpongeBob's undersea pineapple or Squidward's tiki abode (available at major pet stores), you'll be providing cool décor that also teaches them to care for a pet.
No room is complete without a remote school station for your at-home learners. Make learning a little more fun with a Nickelodeon-themed desk lamp for their books. Then you can reward their hard work with their very own DIY Nickelodeon Blimp! All it takes is a balloon, papier-mâché and some orange paint. Your kid's room will be just like the groovy suites at Nickelodeon Hotels & Resorts Punta Cana—where you can find larger-than-life Nickelodeon Blimps left and right.
Conversation Starter: "What kind of house do you want to have when you grow up?"
The Nickelodeon Fun Doesn't Have to Stop When School Starts
Whether you want to cozy up with back to school comfort food or start an ongoing project you can bond over, we hope you enjoy these Nickelodeon Hotels & Resorts-inspired back to school ideas. Dream of a getaway with Nickelodeon Hotels & Resorts Punta Cana is fun, too. The resort is reopening soon with Peace of Mind safety and hygiene protocols put in place by Karisma Hotels & Resorts to make families feel at home from the beach to their Swim-Up Suite. Learn more and plan a Nick Resorts family getaway.