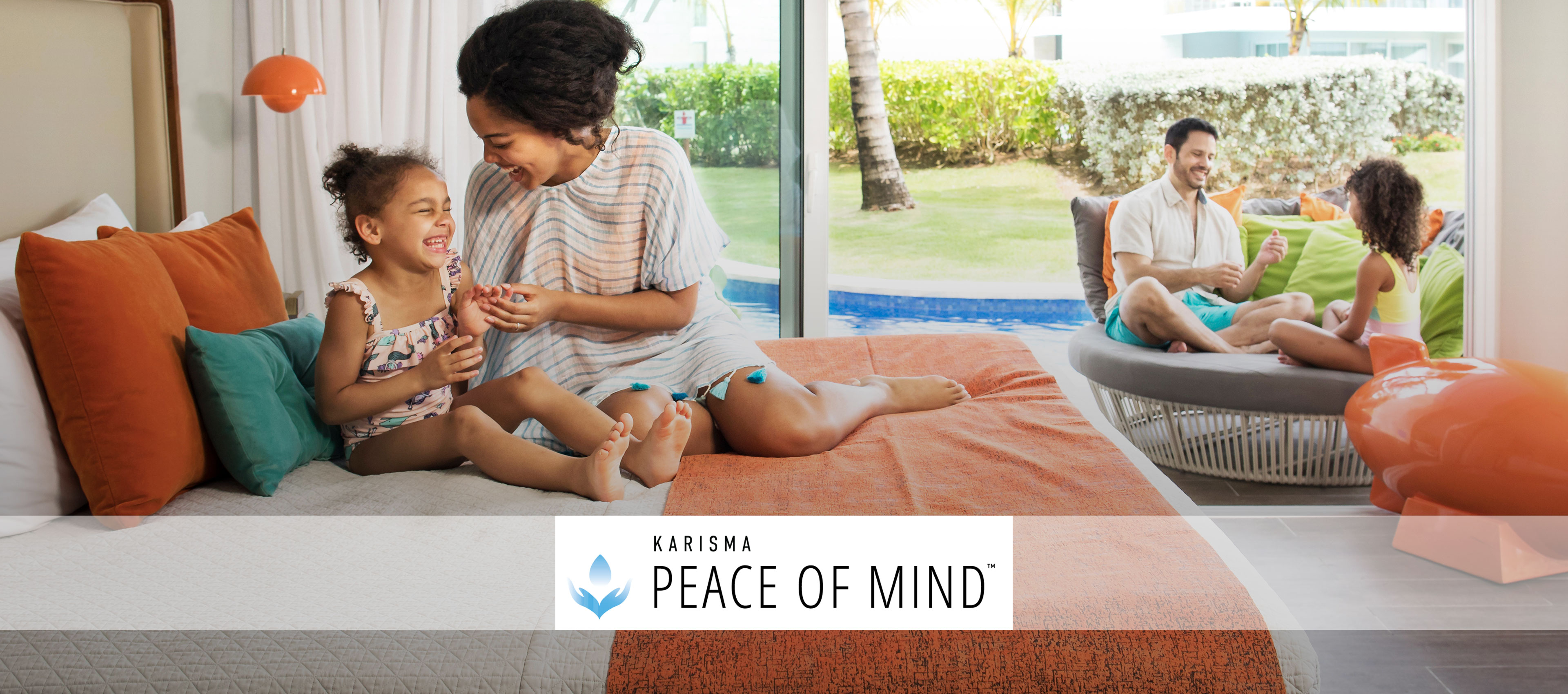 You have been a homeschooling hero, a snack ninja, and with all of the cool Nickelodeon Resorts-themed activities we've been providing, the kids must think you are a master of good times and DIY fun. Although you've been nailing this lockdown, after months of sheltering in place you probably feel long overdue for a vacation. But should you?
Well, there is light at the end of the tunnel. Trust Nickelodeon Hotels & Resorts Punta Cana to provide a clean and sanitized environment prior to the hotel reopening, so that you and your family can feel at ease in your Caribbean vacation. Masterminded by Karisma Hotels & Resorts at Nickelodeon Hotels & Resorts Punta Cana, the aptly named Peace of Mind™ initiative features a host of protective protocols that go above and beyond hospitality industry trends and extend to every aspect of your stay.
Karisma has partnered with seven leading health and wellness organizations to elevate their cleaning protocols, including keeping up with Delos Well Living Lab research. Karisma is one of the Caribbean hotel operators certified by the top three leading independent safety and sanitation agencies: Check Safety First, Cristal International Standards and EarthCheck.
Smart Sanitation Practices, from Check In to Check Out
Nickelodeon Resort is adding advanced technologies and service standards as well as more than 100 new protocols to their existing high-level standards. Guests will appreciate all of the care and attention that Karisma has put into this initiative, including plexiglass barriers at the front desk, suitcase sanitization upon arrival, hand sanitizer at arrival, new air purification systems, ultraviolet sanitizers, and web-based pre-check-in and expedited check-out options.
Staff areas as well as guest-facing areas will have new sophisticated sanitizing products and systems, including obligatory social distancing, sanitizing mats, and massive staff training and internal and external certifications in sanitation practices. Feel at ease knowing that all team members will pass mandatory health and temperature controls and thermal cameras will be installed to identify any staff with high temperatures. Staff will also be wearing face masks.
As part of the resort's all-inclusive, travel light experience, we will provide one complimentary Welcome Kit including face masks and sanitizing wipes. Also, sanitizing gel stations will be strategically placed throughout areas of Nickelodeon Resort as a guest amenity
Health Safety Includes Super-Clean Accommodations
Whether you choose a Swank Wraparound Swim-Up Suite, a Flat Suite or another of the 10 luxe accommodation types — including the incomparable Pineapple Villa — available at Nickelodeon Resort Punta Cana, you will see that we've gone the extra mile to make you feel comfortable in your space.
It starts when you spot the safety seal on your door indicating that your room has been completely sanitized prior to your arrival, including the remote control and telephone. Everything that can be individually packaged will be, such as cups, bottled water and coffee stirrers. And after each cleaning and disinfection treatment, a tent card will be placed on guests' beds. Feel like eating in? Then you'll appreciate that 24/7 room service now features contactless delivery. And your room's all-inclusive mini-bar is now personalized and stocked just for you upon request.
Focus on the Flavors & We'll Focus on the Rest
With 13 food and drink options, including all-inclusive restaurants, cafes, bars and room service, Nick Resort Punta Cana is a gourmet destination as well as an epic Nick play date. While you are marveling at the special effects of the signature chocolate dessert at Spacewalker, digging into what might be the biggest burger in the Caribbean at BRGRS.PH and taking an Asian culinary adventure at Wok Wok, know that extra measures are in place so that you can relax and enjoy every bite a little bit more.
Social distancing will be implemented at all restaurants and bars. Cleaning and sanitization will be elevated, including sanitizing fogging in all food and beverage areas. Instead of food displays, you'll be able to order an a la carte breakfast, as well as packaged gourmet bites and munchies. You can also make dining reservations via OpenTable. In a nod to coronavirus updates as well as environmental responsibility, the room service menu as well as restaurant and wine menus will be available in a digital format.
We're Still Having Fun at Aqua Nick, Club Nick & More
The all-inclusive fun at Nickelodeon Resort Punta Cana includes exciting Nick-theme entertainment and activities, such as Aqua Nick, Plaza Orange, Character Central and Character Breakfasts.
For areas such as these, redesigned layouts that let you enjoy our public spaces with social distancing, while keeping our Guest Inclusive ethos intact. We've initiated new sanitizing protocols that go far beyond deep cleaning. They now include ultraviolet sanitization, temperature monitoring via thermal camera technology, formula steaming, and fogging and germ-free service applications.
Staff masks and social distancing guidelines are in effect at restaurants, bars, pools, elevators and other public spaces. We're also making clean hands a priority with hand sanitizing wipes, guest sanitizing kits, masks and alcohol.
No worries, you can still drift along on the lazy river or suit up for a Personal Sliming at Aqua Nick. But social distancing rules are always in place for parents and children 3 and over. Aqua Nick will also have sanitizing mats at various access points.
The kids can still enjoy fun at Club Nick — an indoor play area that's part clubhouse and part artist's studio. Activities include plenty of unplugged play with toys and games, Dora the Explorer stops by for story time, and the trained staff — always wearing masks — directs age-appropriate activities. At Club Nick, we've also increased measures for cleaning and sanitizing toys, materials and surfaces to keep your little ones healthy.
Nickelodeon Hotels & Resorts Is Committed to Your Comfort
Beyond the high-thread count sheets and the finest professional service, we also want you to feel comfortable spending time with us. Learn more about the Peace of MindTM initiatives in place at Nickelodeon Hotels & Resorts and start booking your beach getaway now in time for our hotel reopening.