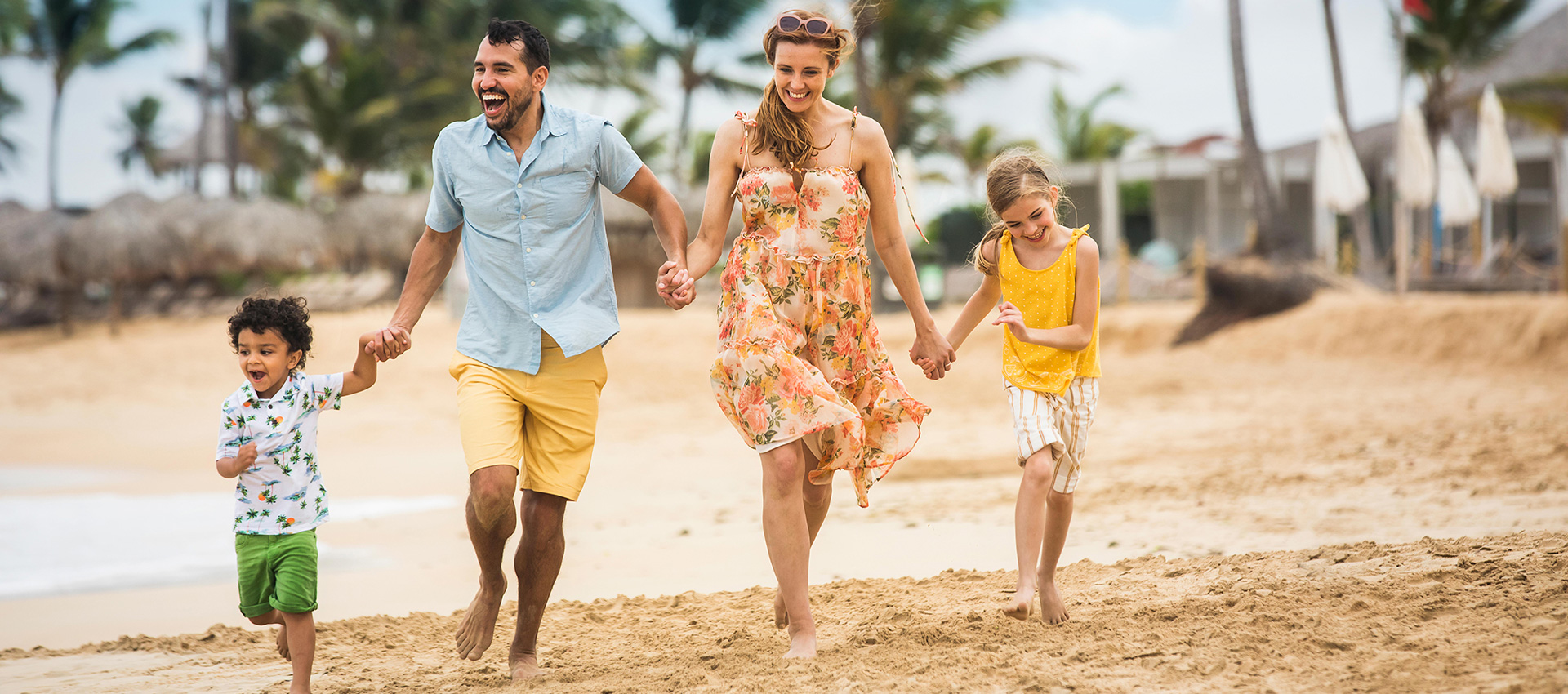 Maybe you are new to this unique blend of pampering and Nickelodeon-theme fun, or it's just been a while since you hung out with SpongeBob and friends in the Caribbean. Either way, this is the perfect time to imagine a day in the life at Nickelodeon Hotels & Resorts Punta Cana. And what a great time it is — every day! Whether you're joining us for a weeklong escape or a weekend getaway, we're the best at bringing that carefree feeling into every moment. And with all of the Peace of Mind™ protocols we've implemented to provide a clean and sanitized environment for families, you can feel relaxed and carefree in every moment.
It starts with five-star style and luxe Nickelodeon Resorts accommodations. It continues with assorted antics, from Meet & Greets and Character Appearances with Nickelodeon characters to playtime in the Caribbean surf. And in between all of the fun, everyone will love the gourmet dining options that elevate all-inclusive to new levels.
Mid-Morning Fun in the Sun at Nick Resorts
The Caribbean Sea is tranquil and turquoise. The golden sands are pristine and soft. The palm trees are tall and graceful. It's time to take full advantage of Nick Resort's location on a little known pocket of perfection in the Dominican Republic known as Uvero Alto beach. Ask the concierge to reserve a complimentary cabana, and your family will be set up with towels, beach toys, and cool drinks. It's all part of the all-inclusive resort experience.
The island waves are just right for boogie boarding. Have a family sand castle challenge. Or take the competition up a notch on the beach volleyball court.
You're also just steps from the beachfront infinity pool, where Jazmin Swim-Up bar is serving tropical cocktails, fruit infused waters, fresh-squeezed lemonade and other refreshing drinks for adults and kids.
Lunchtime! Fuel Up for More Play at Nick Resort
We have a hunch that everyone's hungry for lunch! Take your pick of all-inclusive restaurants, including Fresco Bar & Grill at Gourmet Corners, Zest, Sugarcane and Aqua Bite.
Grab an umbrella table at Fresco Bar & Grill, and dine on fresh and natural light meals, such as their signature Peruvian-style ceviche, without leaving the pool area. Mediterranean cuisine is on the menu at Zest. Feast on healthy options at Sugarcane, where meals are cooked to order using local produce and international ingredients. Meanwhile, with a location inside Nickelodeon Place, Aqua Bite is your perfect spot to enjoy a delicious and filling lunch without straying too far from the action.
Surprise Fun at Nickelodeon Place
If you're already at Nickelodeon Place for lunch, stick around and keep your eyes open for our own Nick style of flash mob that we call a Character Flash. In a Nickelodeon Character Flash, you'll catch a glimpse of some of your favorite Nickelodeon characters during these brief, story-driven appearances.
Make an Appointment with Nickelodeon Slime
After lunch, make a beeline to Aqua Nick, our six-acre Nick-themed water park filled with over 500 meters of splashy thrills and lazy rivers. You don't have to worry about lines and waiting at Aqua Nick, there are gallons of fun for everyone.
The kids will love drench buckets, squirt devices, water jets and colorful Nickelodeon-themed surroundings. Meanwhile, parents can relax on an inner tube along the lazy river or relax on a nearby lounge chair with a tropical cocktail.
Need some Nickelodeon Slime in your life? Book your family for a Personal Sliming. You'll enjoy a quick performance by the Nick crew just before you experience the highest Nickelodeon honor, a coronation in green reserved for celebrities, luminaries and you! The Private Sliming includes a photo that you can frame, share and laugh about for years to come.
Strut Your Stuff on the Orange Carpet
When the evening comes, the stars come out at Plaza Orange — and so does the Orange Carpet! SpongeBob and Patrick, the Teenage Mutant Ninja Turtles, and Dora and Diego will all be there for a mega character appearance. At this VIP event, help yourself to some DIY dazzle with a complimentary Glam Kit Goodie Bag containing temporary tattoos, glitter and other cool ways to self-decorate. Then get ready to strike a pose! Families are invited to walk the Orange Carpet, but we've modified our "paparazzi" moments to allow for social distancing. Guests can now take their photos one at a time, any time during the event, without lining up.
Dinnertime! Gourmet All the Way
The all-inclusive dining at Nickelodeon Resort Punta Cana means more than the delicious food that's included in your stay. It also means that everyone in the family feels included in the meal, because our chefs are serving gourmet options for all palates, and even the mac and cheese gets elevated with nuanced flavors.
You have your choice of five all-inclusive dinner restaurants that combine eye candy with gourmet goodness. Enjoy the flavors of Wok Wok, featuring delicious dishes from across the map of Asia. Verdello serves Italian comfort food like mama used to make in Sicily. At BRGRS.PH, freshly baked buns, specialty toppings and sauces really beef up these burgers. Vegetarians and non-vegetarians love the savory lentil burger, so give it a try.
The one-of-a-kind Spacewalker restaurant is an interstellar dining experience, where everything looks like it could be from the 31st century. Servers wear futuristic silver attire, the menus and walls glow, and the food looks out of this world. Order the white chocolate ball dessert and wait for the special effects as the server pours chocolate over it.
You've found a resort with dining to remember. And with so many options you can enjoy something different for every meal.
On a special diet? Tell your server, and the chef will make accommodations. Remember that room service is always an option as well.
Is It "Me Time" Yet?
Because we elevate family getaways with all-ages luxury, you'll find things to do at Nick Resorts for adults as well. Drop the kids at Club Nick, designed for ages 4 to 12. The fun at this complimentary kids-only area includes Slime-themed, host-led games and activities throughout the day.
Make reservations for two at Kitchen 23 by Le Chique, serving a 16-course tasting menu for a nominal surcharge. Only for guests over 18 years of age, the chic atmosphere of Kitchen 23 includes a grand piano, subtle colors and muted lighting. There is nothing to distract from every plate of beautiful and delicious creations from the chef.
At Vino Vino, kids are allowed before 10 pm, but you may want to keep this South Beach-style hang out all to yourself. Sit in the sleek Italian-style furnishings and sip from a quality selection of wines and wine-based creations. Vino Vino also offers wine tastings.
When it comes to Nick-themed fun, delicious food and a hundred other things you never have to think about — including our Peace of Mind™ cleanliness and safety initiatives — Nickelodeon Hotels & Resorts Punta Cana has your family covered. Start planning a Nickelodeon Resorts beach getaway now.